---
go to main page
go to bowl index page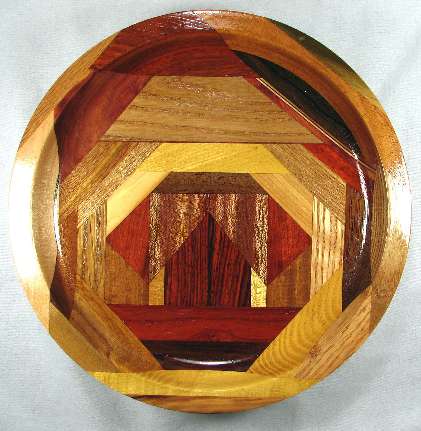 B151 --- $125.00 --- this is the orientation view --- more pics down below

diameter: 9 1/2"
height: 2 1/2"

finish: one application of natural stain then 2 coats of high gloss spar polyurethane (with UV blocker)

WOODS USED: [SEE DISCUSSION ON THE MAIN PAGE OF THIS SITE IF ANY OF THIS IS UNCLEAR]

base: wenge

view 1: olive over purpleheart veneer over olive, all backed by osage orange, dark cocobolo, padauk, BOX

view 2: oak, osage orange, BOX

view 3: black ash, limbali, red oak, BOX

view 4: tulip poplar with heavy green mineral stain, mahogany, zircote over aromatic red cedar, aromatic red cedar thin, ebony veneer, maple veneer, padauk veneer, aromatic red cedar, padauk, black ash, BOX

view 5: padauk, black ash, BOX

view 6: spalted red oak, aromatic red cedar, canary, cowtree, BOX

view 7: red birch over ebony veneer over red birch, tzalam, red oak, BOX

view 8: ?, canary, BOX

BOX: bottom middle is cocobolo sided by tatajuba sided by ipe. Above that is sapele sided by redheart. Above the sapele is partridgewood(?) then osage orange. Upper slants are pine.

flaws/issues: In view 1, underneath, there is a layer of birch veneer that is only partially turned off under the padauk. The lower piece of birch in view 7 has some small tear-outs on the right side. This started off as a major edge-chip flaw but I turned further until only a small blemish remained.

There is a hairline separation up the middle of the BOX but it is barely visible.

LATER: the osage orange pieces in views 1 and 2 and the one in the box have all darkened to a golden tan but otherwise what you see is what you get.

comments: The olive in view 1 has some nice dark streaking and the tulip poplar in view has an unusually dark green color due to mineral staining (and was chosen for that reason).


---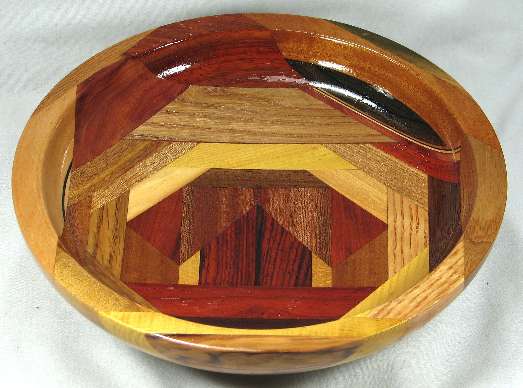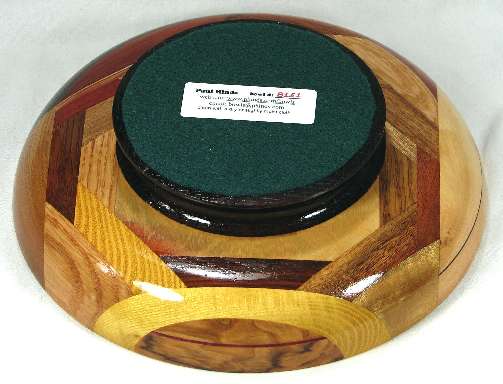 views 1c and 1d





views 4b and 1b


---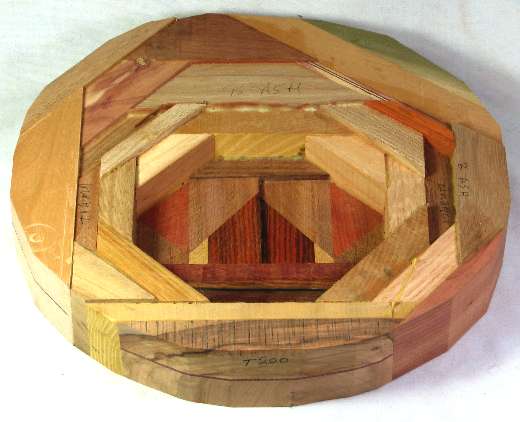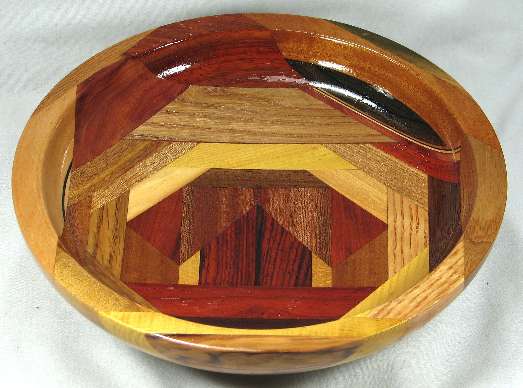 view 1c as the bowl blank and then as the finished bowl