---
go to main page
go to bowl index page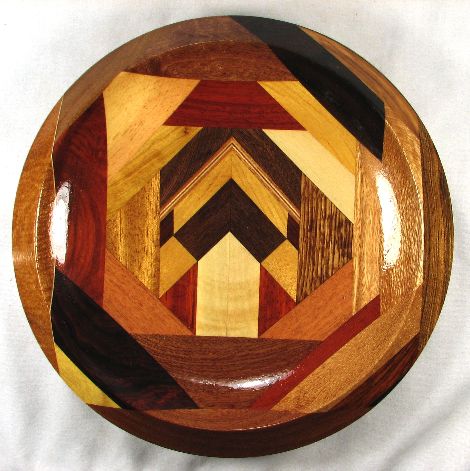 B156 --- $125.00 --- this is the orientation view --- more pics down below

diameter: 9 1/2"
height: 2 1/2"

finish: one application of natural stain then 4 coats of high gloss spar polyurethane (with UV blocker)

WOODS USED: [SEE DISCUSSION ON THE MAIN PAGE OF THIS SITE IF ANY OF THIS IS UNCLEAR]

base: walnut

view 1: wawabima, mahogany, BOX

view 2: cocobolo, silky oak, redheart, kuruguay, BOX

view 3: bocote, silky oak, eucalyptus, English brown oak, BOX

view 4: two pieces of olive sandwitching ebony veneer and holly veneer, then dark cocobolo, osage orange, holly, BOX

view 5: lightly mottled sapele, padauk, BOX

view 6: afrormosia, fir, osage orange, BOX

view 7: lightly curly Honduras mahogany, bloodwood, iroko, BOX

view 8: osage orange, dark cocobolo, kuruguay, BOX

BOX: from the top: partridgewood, thick mahogany veneer, maple veneer padauk veneer, maple veneer, thick mahogany veneer, osage orange sided by cocobolo, wenge sided by yellowheart, holly sided by padauk

flaws/issues: The redheart in view 7 has a wormhole on the bottom, of the type that fills back up with what seems to be soft powdery wood. The dark cocobolo in view 8 has a poor glue joint on the bottom of the bowl; it isn't particularly noticeable visually but you can feel it when you run your finger over the joint on either the top or the bottom of the bowl.

LATER: the osage orange pieces have darkened noticeably and a few of the other woods are just slightly less vibrant than when these pics were taken many years ago but basically it's still what you see is what you get.

comments: Very nice design on this one and generally excellent wood throughout. The curly mahogany in view 7 looks better on the bottom side than on the top side, as you can see in view 7b below. The dark cocobolo in view 4 is so dark on the top side that it looks like ebony but on the bottom you can see a red shade.


---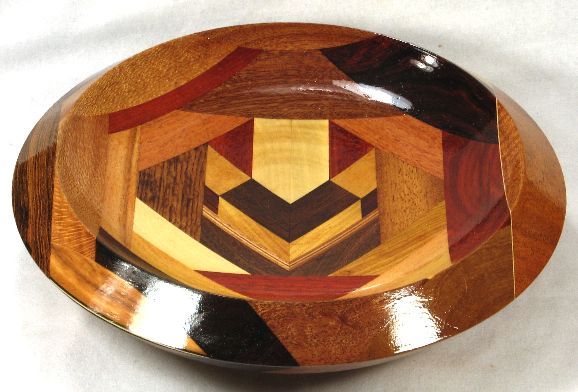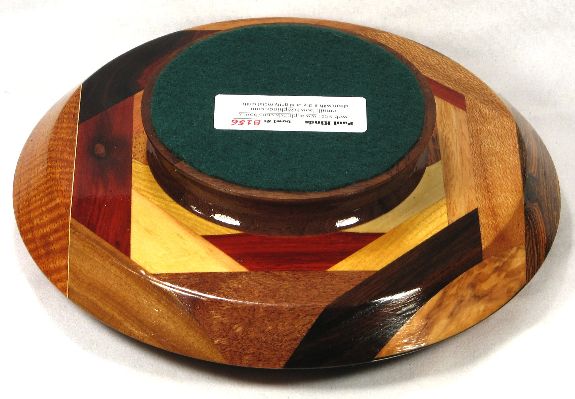 views 5c and 5d





views 7b and 3b


---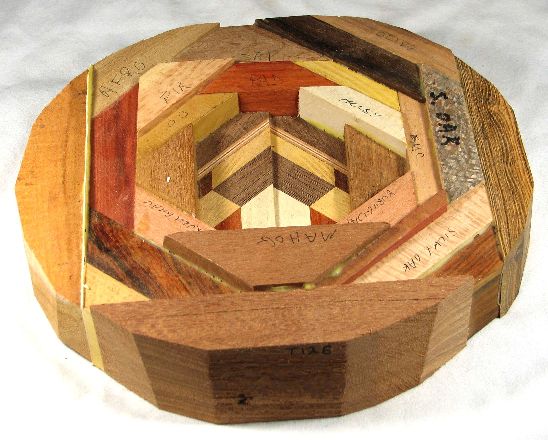 view 1c as the bowl blank and then as the finished bowl