---
go to main page
go to bowl index page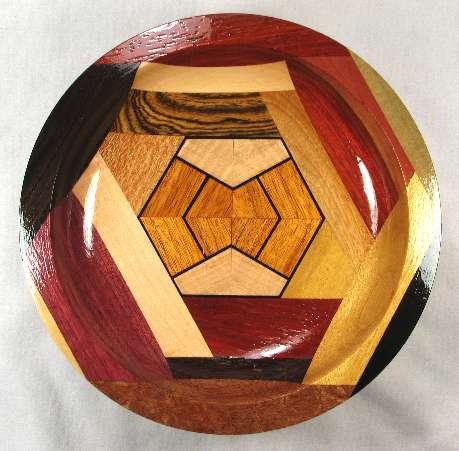 NOT AVAILABLE
B189 --- $NOT AVAILABLE --- this is the orientation view --- more pics down below

diameter: 7"
height: 3"

finish: one application of natural stain then 4 coats of high gloss spar polyurethane (with UV blocker)

WOODS USED: [SEE DISCUSSION ON THE MAIN PAGE OF THIS SITE IF ANY OF THIS IS UNCLEAR]

base: Honduras mahogany

view 1: mottled sapele, partridgewood, padauk, BOX

view 2: African blackwood, yellowheart, yellowheart, BOX

view 4: green-tinted tulip poplar, two-tone redheart, canary, BOX

view 5: padauk, basswood, bocote, BOX

view 6: gaboon ebony over purpleheart, silky oak, BOX

view 8: poplar, purpleheart, curly maple (not very curly

BOX: all of the black lines are double thicknesses of gaboon ebony veneer, the golden-colored wood is canary, and the off-white wood is curly maple (not very curly)

flaws/issues: The left inner edge of the purpleheart in view 8 has tiny chipouts.

comments: Outstanding BOX, excellent two-tone redheart in view 4, nice woods throughout. The mottle sapele in view 1 and the purpleheart in view 8 are highly chatoyant (the purpleheart is more so from the bottom view than from the top).

The technique required to get the ebony veneer all the way around the BOX was very tedious so although I really love the way it came out, I'm not likely to do it too often as it is a significant amount of extra effort.


---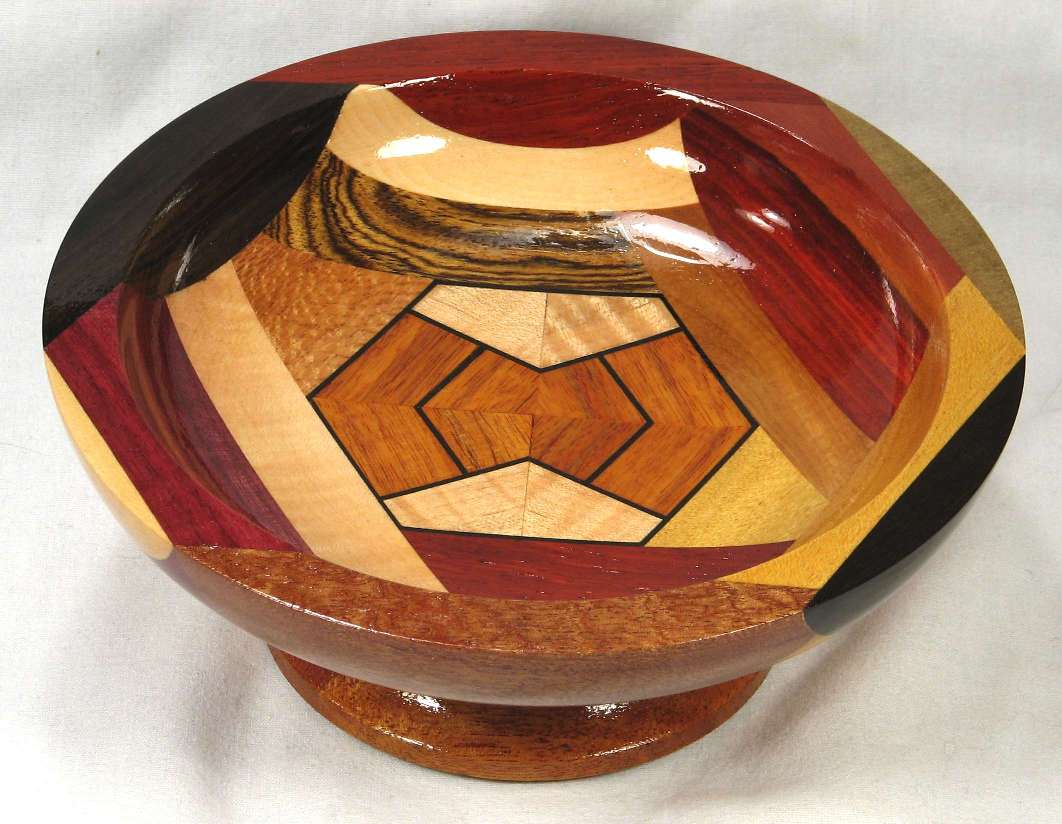 view 1c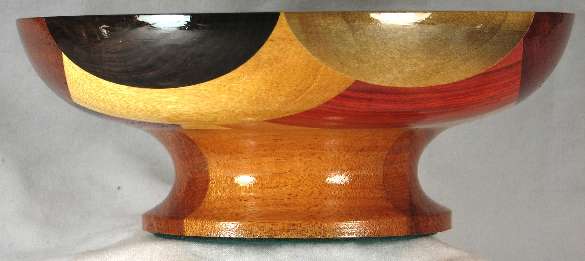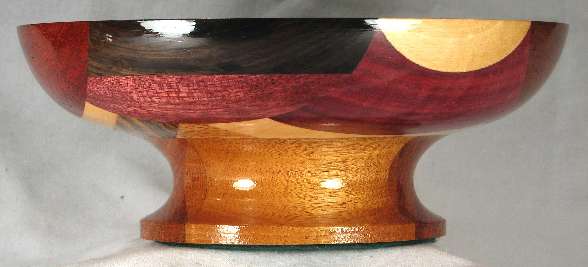 views 3b and 7b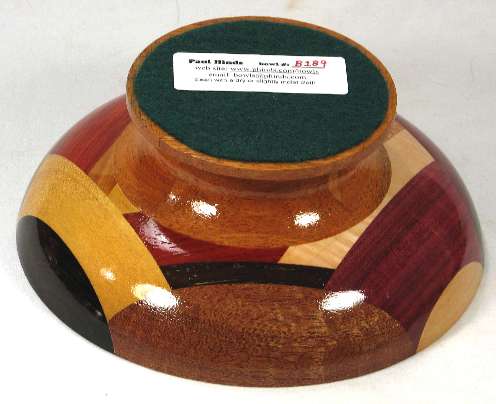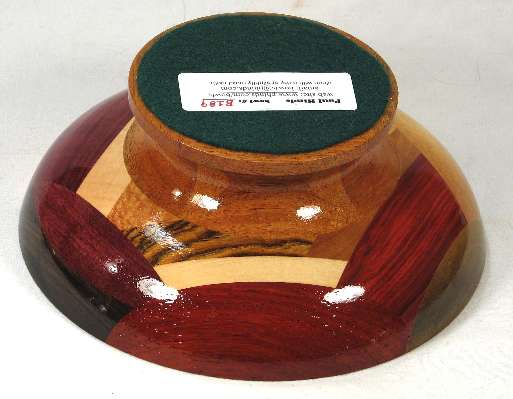 views 1d and 5d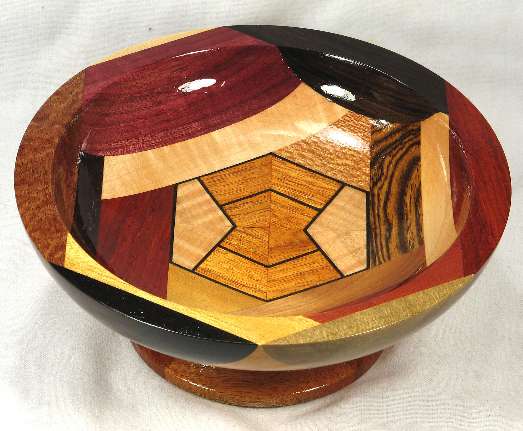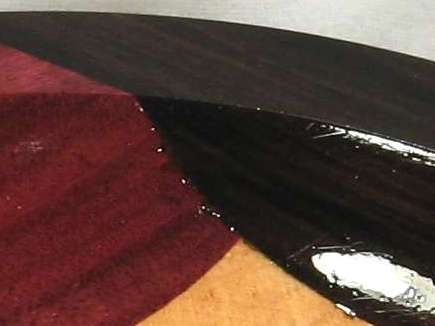 view 3c with a closeup showing the purpleheart chipout which, as you can see, is very minor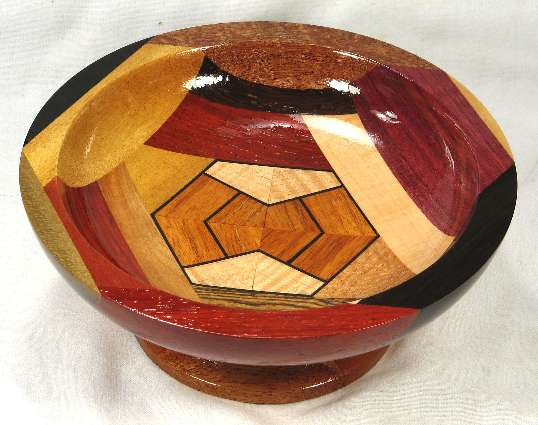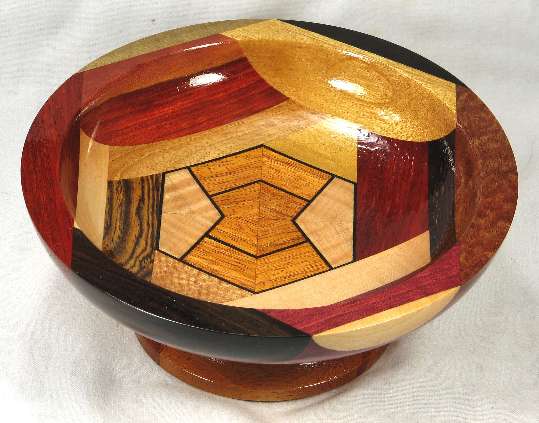 views 5c, and 7c


---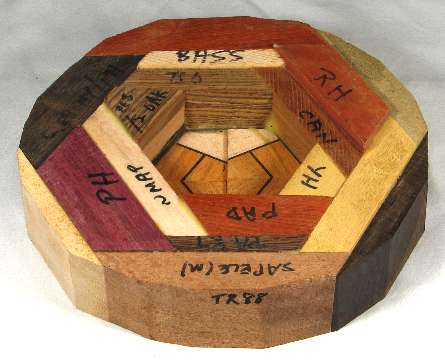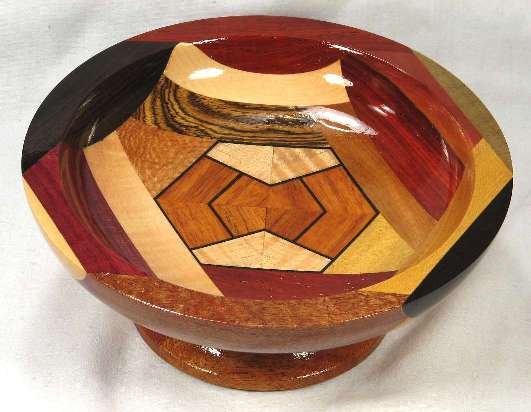 view 1c as the bowl blank and then as the finished bowl