---
go to main page
go to bowl index page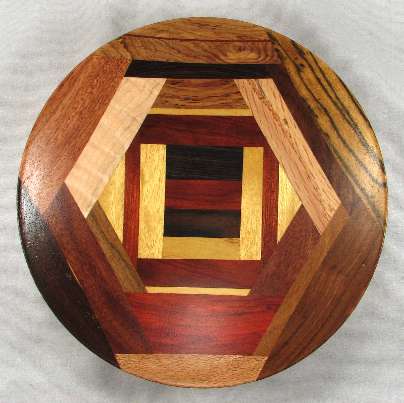 B217 --- $95.00 --- this is the orientation view --- more pics down below

diameter: 6 1/2"
height: 2 1/4"

finish: 7 coats of satin-finish spar polyurethane (with UV blocker)

WOODS USED: [SEE DISCUSSION ON THE MAIN PAGE OF THIS SITE IF ANY OF THIS IS UNCLEAR]

base: canary

view 1: silky oak, redheart, BOX

view 2: Honduras rosewood over thick birch veneer over Honduras rosewood, afrormosia, cabreuva, BOX

view 4: bocote, ? (reddish brown wood), wormy red oak, BOX

view 5: Honduras rosewood, padauk veneer, Honduras rosewood, wenge, Honduras rosewood, BOX

view 6: canary, curly maple, BOX

view 8: partridgewood over yellowheart over wenge, cabreuva, bocote, BOX

BOX: from the bottom up through the middle to the top is; yellowheart, redheart, yellowheart, gaboon ebony, redheart, African blackwood, redheart, yellowheart. On both sides, from the outside inward, are: wedges of yellowheart, bloodwood, yellowheart

flaws/issues: The wormy red oak in view 4 was used deliberately, as I consider this to be wood character, not a flaw.

LATER: the yellowheart in the box has darkened just a bit and the redheart in view 1 has faded to red-brown

comments: I was so enamored of the curve of the inside of bowl #B214 that I did another one just like it almost immediately. Here's what I said about B214 (applies to this bowl as well except about being the first such): Unlike the normal "C4" type bowl, this one has a smooth, continous curve from the rim to the middle, making the inside shape look like a wok. The under-rim curve is different, so the rim thickens from the edge in toward the base. It really looks neat and although this is the first bowl I've turned with this shape, I like it so much that I'm sure it won't be the last.


---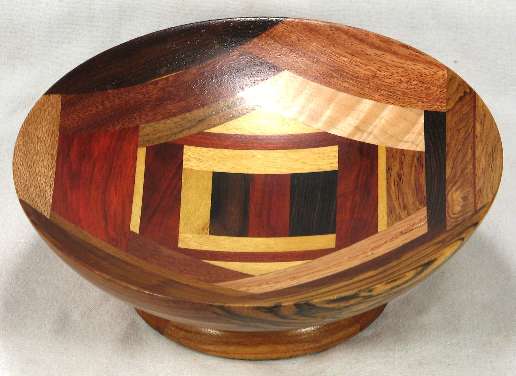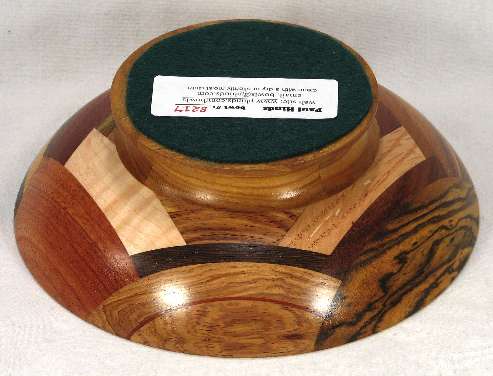 views 3c and 5d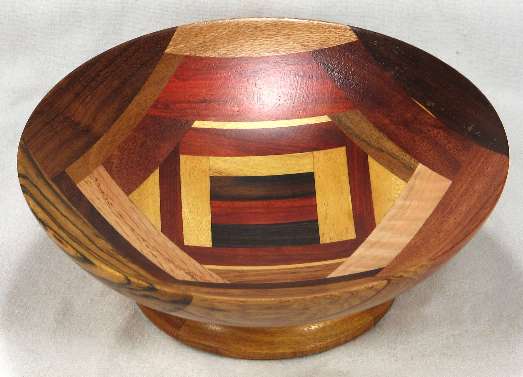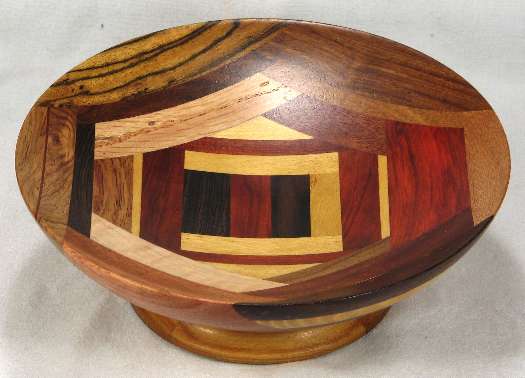 views 5c and 7c




view 4b


---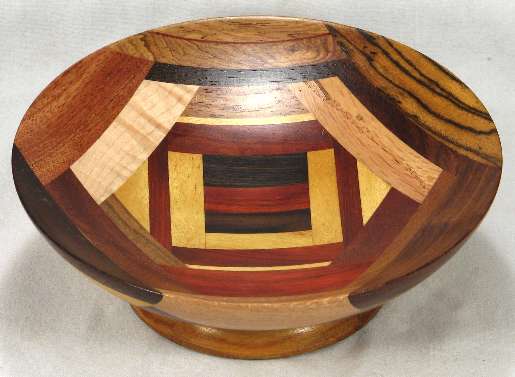 view 1c as the bowl blank and then as the finished bowl