---
go to main page
go to bowl index page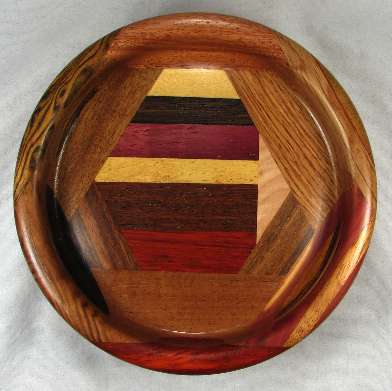 B221 --- $90.00 --- this is the orientation view --- more pics down below

diameter: 6 3/4"
height: 2 1/4"

finish: 8 thin coats of satin-finish spar polyurethane (with UV blocker)

WOODS USED: [SEE DISCUSSION ON THE MAIN PAGE OF THIS SITE IF ANY OF THIS IS UNCLEAR]

base: canary

view 1: padauk, machiche, BOX

view 2: aromatic red ceder, mahogany, aromatic red cedar, all over zircote over birch over bocote over ? (tan wood) in front of mahogany over pine over mahogany, then cumaru, BOX

view 4: partridgewood, padauk veneer, white oak, Honduras rosewood, BOX

view 5: canary, yellowheart, BOX

view 6: bocote, cumaru, BOX

view 8: Honduras rosewood over thick birch veneer over bocote over wenge over Honduras rosewood over canary, then chechem, BOX

BOX: on the right side is a wedge of birch and the rest of the BOX is, from the bottom up, redheart, partridgewood, yellowheart, purpleheart, wenge

flaws/issues: The Honduras rosewood in view 4 has some chipout at the vertical edge inside the rim next to view 2 and there is an even less noticeable chipout line up the side of the cumaru in view 6 where it meets the canary from view 5.

There is a small, very slightly raised area, in the very center that should have been turned down flat. It isn't noticeable visually but you can just feel it if you rub your finger over the bottom of the bowl.

LATER: the padauk in view 1 has darkened severely since these pics were taken many years ago and is now a very deep blood red. The bocote in view 6 has also darkened but this is minor.

comments: This is a "soft" type C3, with rounded edges everywhere including the joint of the vertical inner rim and the flat surface of the inside of the bowl. As a consequece of the style, the inner rim has what in a C1 type bowl would be omega curves but which here are more like a soft, elegantly curved letter "U". The canary in view 5 works particularly well with this, emphasizing the "U" shape with grain lines.

I particularly like the way the padauk veneer works in view 4 and the bocote in view 6 is a marvelously figured piece along the upper and inner rim. The padauk in view 1 is a particularly beautiful piece, with a bright blood red color and excellent grain lines.


---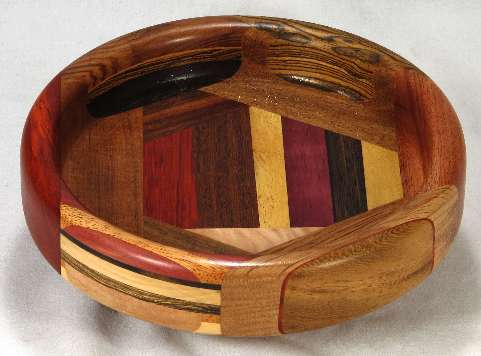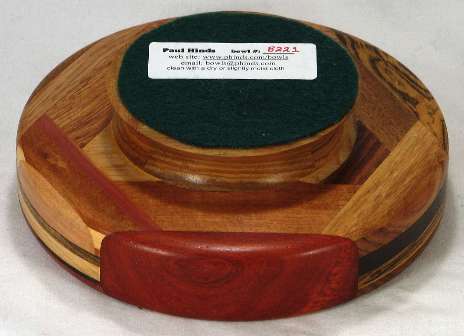 views 3c and 1d





views 2b and 6b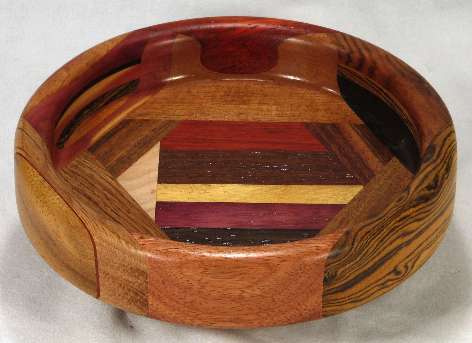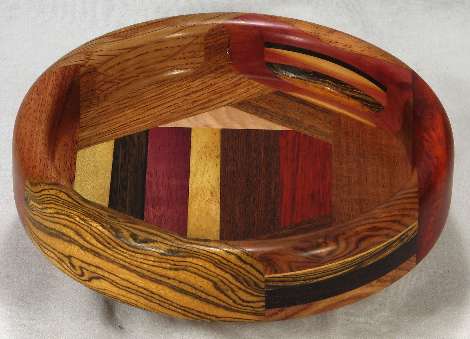 views 5c and 7c


---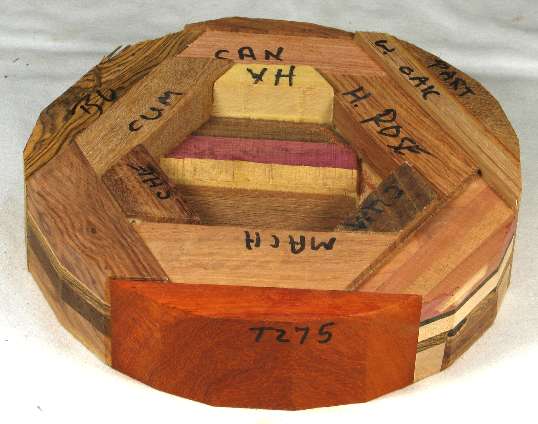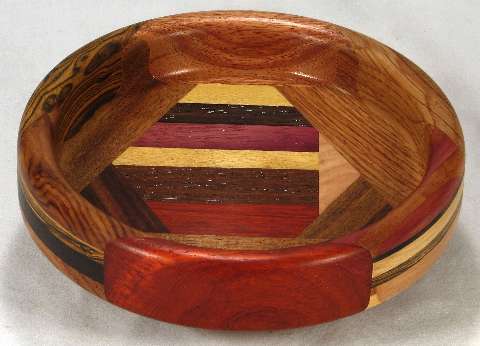 view 1c as the bowl blank and then as the finished bowl