---
go to main page
go to bowl index page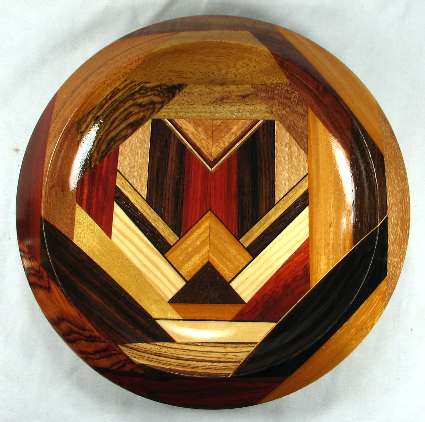 C144 --- $175.00 --- this is the orientation view --- more pics down below

diameter: 9 1/2"
height: 2 1/2"

finish: one application of natural stain then 2 coats of high gloss spar polyurethane (with UV blocker)

WOODS USED: [SEE DISCUSSION ON THE MAIN PAGE OF THIS SITE IF ANY OF THIS IS UNCLEAR]

base: sipo

view 1: redheart, zebrawood, basswood, BOX

view 2: buckthorn, cocobolo (very dark, almost black), holly veneer, redheart, BOX

view 3: silky oak, wenge, paela, BOX

view 4: paela over bocote over white oak, then gredadillo, mottled sapele, BOX

view 5: walnut, tatajuba, bocote, BOX

view 6: canary over padauk veneer over canary, bocote, BOX

view 7: redheart, sycamore, redheart, BOX

view 8: tiny arc of aromatic red cedar, cocobolo (fancy grain), cocobolo (dark purple), yellowheart, BOX

BOX: from the bottom up the middle: paela, wenge, canary, ebony veneer, redheart, walnut veneer, maple veneer, padauk veneer, walnut veneer, mahogany(?). The lower slants are douglas fir and above that is ebony veneer then wenge then ? (green-colored tulip poplar?) then ebony veneer, then to the left/right of the redheart is dark purple cocobolo and outside that is sycamore.

flaws/issues: there is a stress crack that shows up along the narrow outer edge of the sycamore in the upper right of the box and run up along the edge of the sapeli in view 4. There is also a slight roughness (only to the touch, not visible) along the ebony veneer at the bottom of the box. Some of the woods have darkened since these pics were taken many years ago.

comments: Lots of excellent wood in this one, plus a pattern that I really like and a shape that works well for the woods. The inside of the rim is curved rather than straight like the outside. I consider this bowl to be outstanding; definitely among my very best.

The bocote in view 5 has a very poor grain pattern for the species but it was chosen because it has great ray flakes. Unfortunately, these barely show up on the top of the bowl although they are quite apparent on the bottom.


---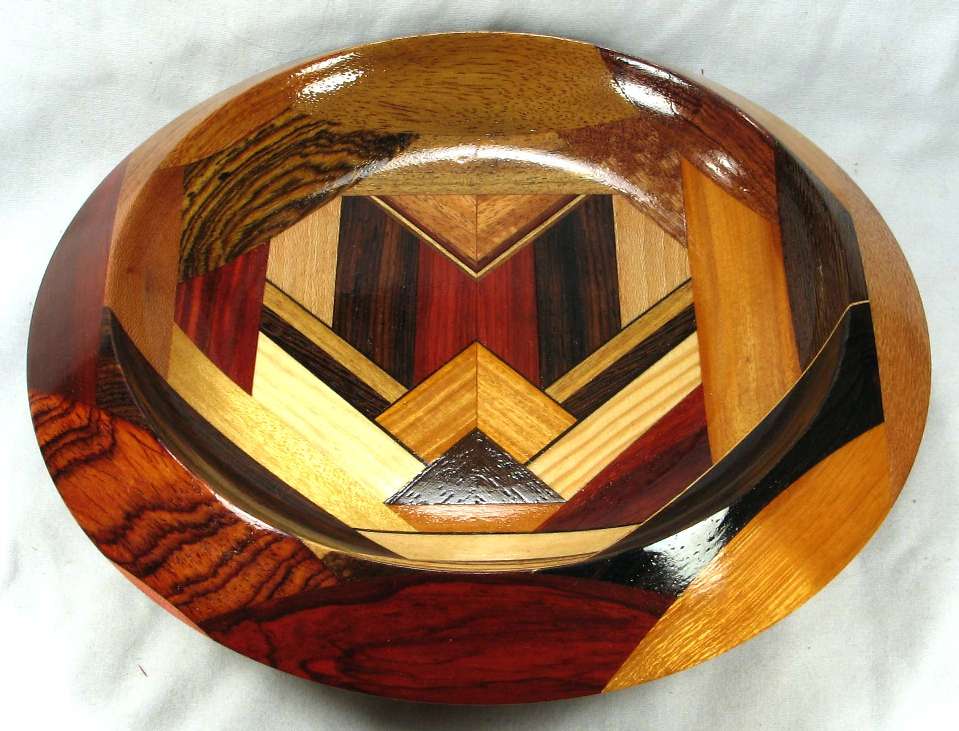 view 1c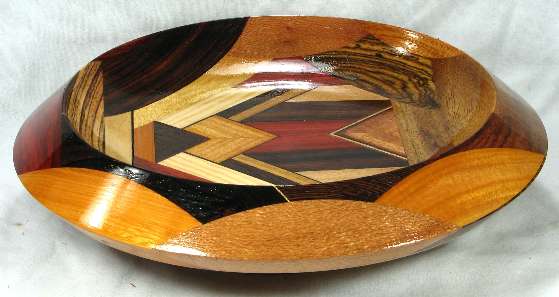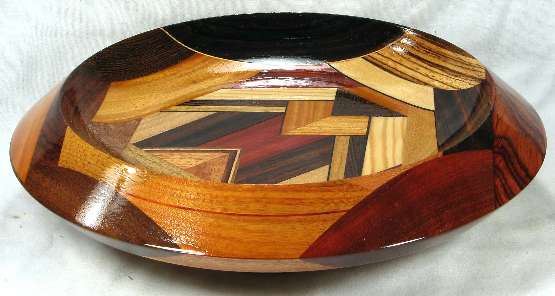 views 3a and 6a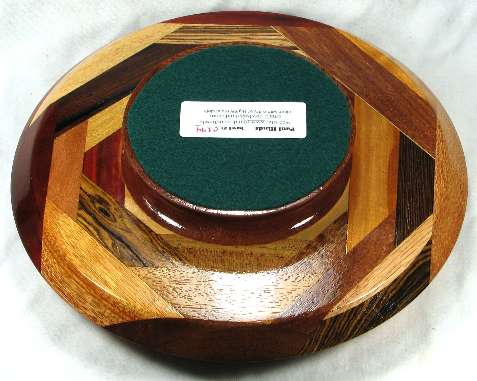 views 5d and 8b


---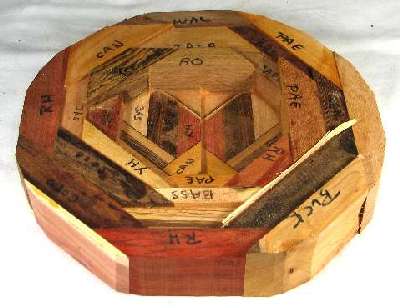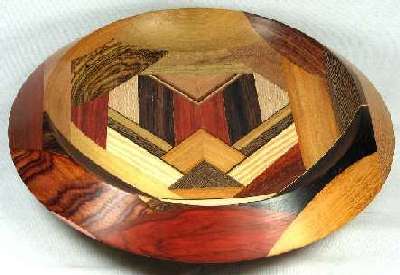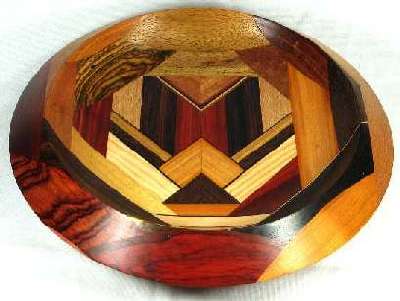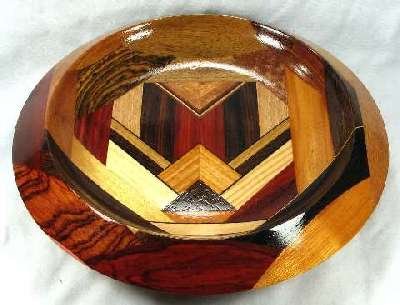 view 1c, first as the bowl blank, then raw (fresh off the lathe), then with an application of natural stain, then as the finished bowl