---
go to main page
go to bowl index page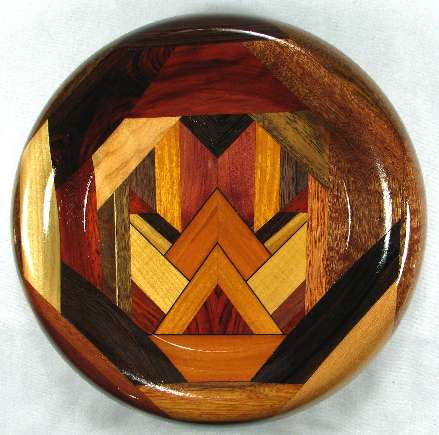 NOT AVAILABLE
C147 --- $NOT AVAILABLE --- this is the orientation view --- more pics down below

diameter: 10"
height: 2 1/2"

finish: one application of natural stain then 3 coats of high gloss spar polyurethane (with UV blocker)
NOTE: This bowl was rebuffed and then coated with low-gloss polyurethane to get a softer, less "plastic" look, and that is shown at the bottom of the page.

WOODS USED: [SEE DISCUSSION ON THE MAIN PAGE OF THIS SITE IF ANY OF THIS IS UNCLEAR]

base: sipo

view 1: grenedilla, canary, paela, ebony veneer, BOX

view 2: sycamore, dark cocobolo, BOX

view 3: sapele, sapele, mahogany, BOX

view 4: billy webb wood, sipo, bocote, BOX

view 5: oak (small oval), kingwood, redheart, BOX

view 6: bocote, cocobolo, soft maple, BOX

view 7: bocote, tulip poplar, padauk, walnut, hard maple veneer, oxhorn, BOX

view 8: zircote over maple veneer over zircote all backed by cowtree and topped by redheart, then backed by mahogany, wenge, BOX

BOX: up the middle is cocobolo, paela, ebony veneer, paela, ebony veneer, purpleheart, wenge. Bottom corner wedges are cocobolo and above them is yellowheart then ebony veneer then pine(?) then wenge and little wedges of padauk. Going out from the purpleheart is paela then ? (probably purpleheart, maybe Peruvian walnut)

flaws/issues: When I took this off the lathe, I left it out as I frequrently do, before taking pics, so there was no moisture barrier and there was movement of the dark cocobolo in view 2. It drops below the rest of the surface on the top and projects out from the rest of the surface on the bottom and has a very narrow separation from at the surface towards the center of the bowl. Fortunately, it is not visually noticeable on the top (although you can feel it with your finger) and does not detract from the beauty of the bowl. The paela in view 1 exhibits larger movement and the whole glue line along the inner portion of view 2 now shows a definite stress line.

comments: The combination of BOX pattern and excellence of woods throughout makes this one of my very best, I think, and I had originally priced it at $xxx but the wood movement stresses mentioned above have caused me to reduce it to $xxx which may seem a bit high for a bowl with even a small flaw, but I think the beauty of this one makes it worth at least that.


---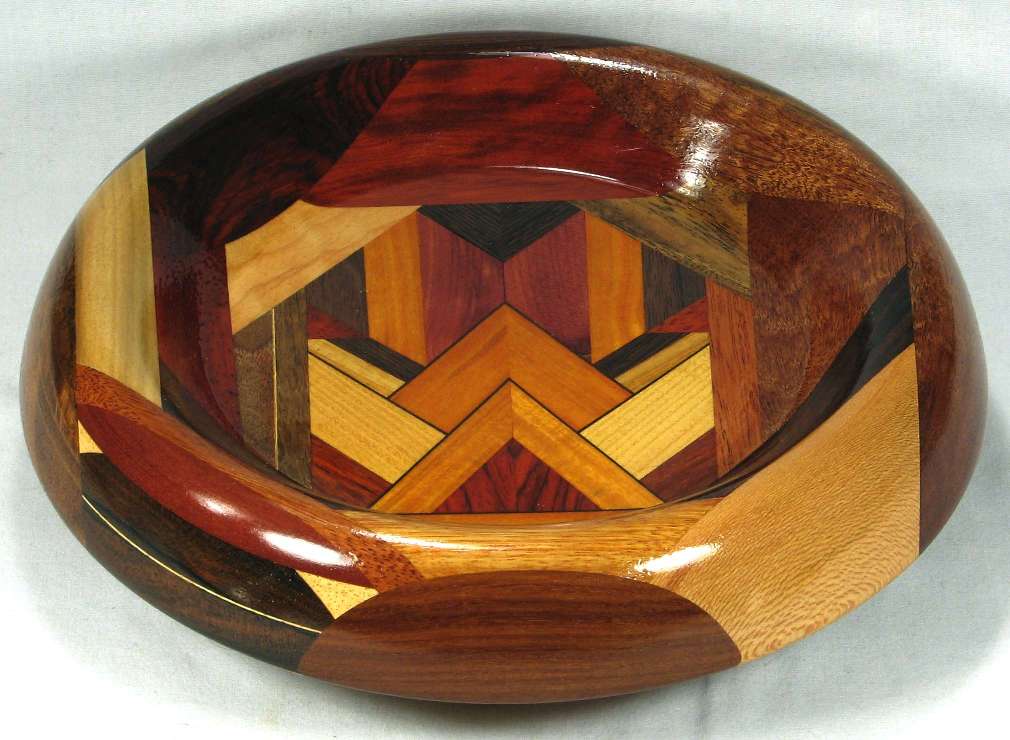 view 1c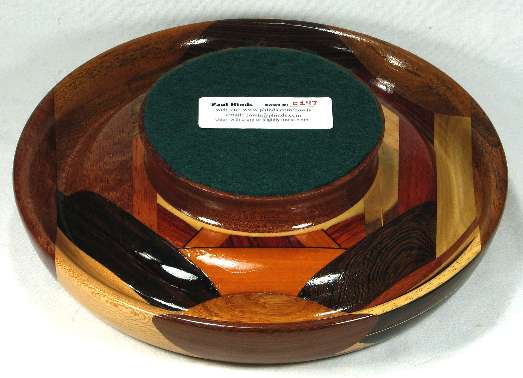 views 1d and 8b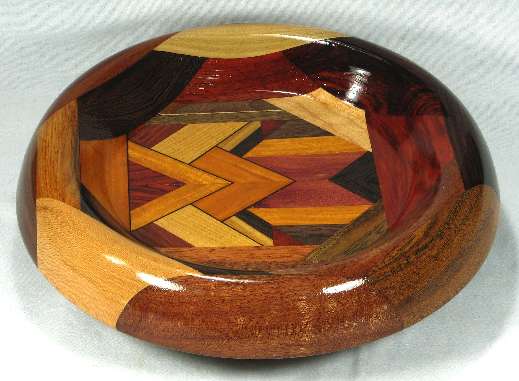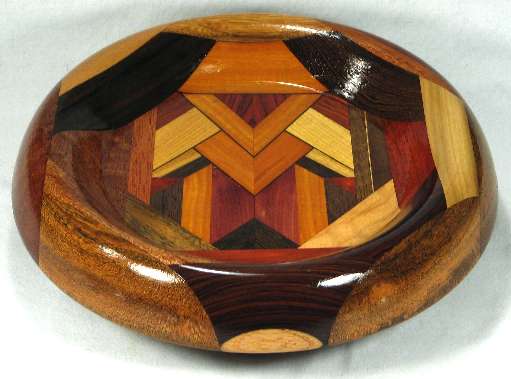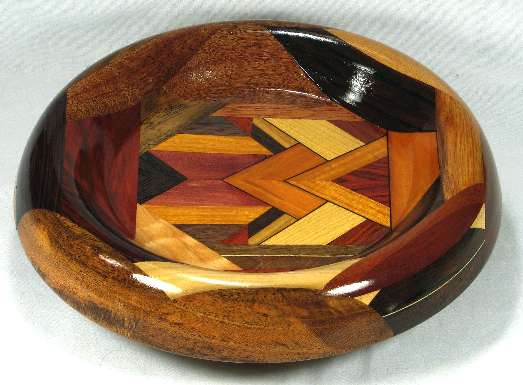 views 3c, 5c, and 7c


---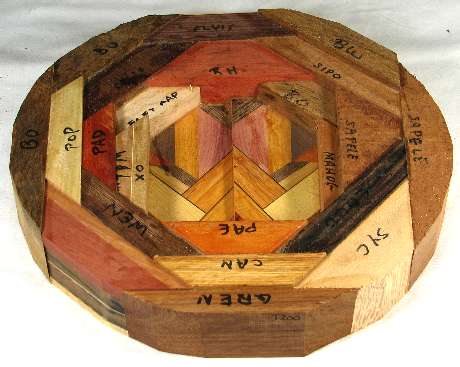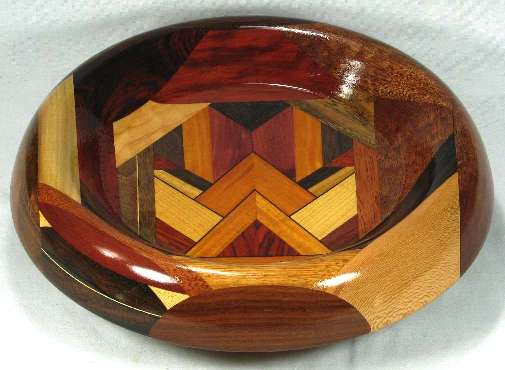 view 1c as the bowl blank and then as the finished bowl


---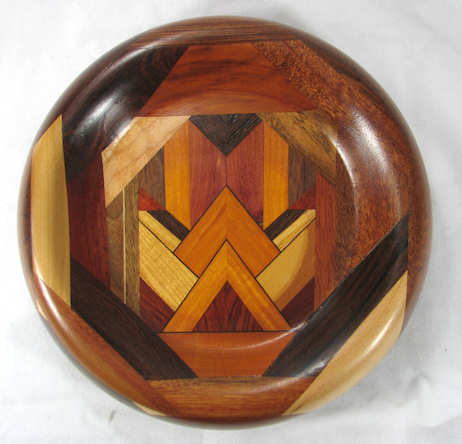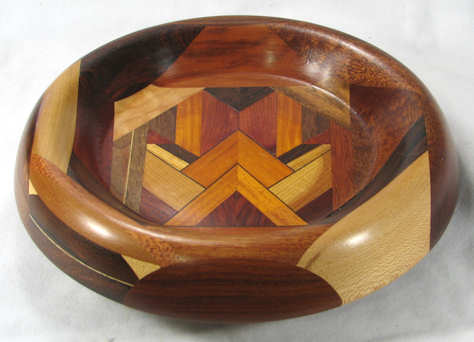 This is the bowl after I re-buffed it and applied a couple of coats of low-gloss polyurethane. I took these shots by hand instead of using the tripod as I normall do, so they are JUST a hair out of focus and the bowl looks slightly more fuzzy than it does in reality, but the low-gloss look worked well.

You can also see that the redheart in view 5 to a slight extent, and the redheart in view 8 totally, have turned from red to more brownish.