---
go to main page
go to bowl index page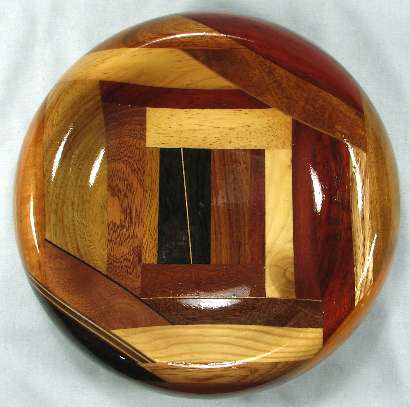 C151 --- $95.00 --- this is the orientation view --- more pics down below

diameter: 9 1/2"
height: 3"

finish: one application of natural stain then 2 coats of high gloss spar polyurethane (with UV blocker)

WOODS USED: [SEE DISCUSSION ON THE MAIN PAGE OF THIS SITE IF ANY OF THIS IS UNCLEAR]

base: sipo

view 1: redheart (pink sapwood), white oak, douglas fir, sapele, maple veneer, lacewood, BOX

view 2: paela over cocobolo

view 3: billy webb wood, red oak, padauk, redheart, fir, BOX

view 4: canary, redheart, mahogany, ? veneer

view 5: canary, pine, padauk, prima vera, BOX

view 6: mahogany

view 7: white oak, goncalo alves, canary, sipo, BOX

view 8: white oak, wenge, thick walnut veneer, maple veneer, two thicknesses of thick walnut veneer, maple veneer, thick walnut veneer, sapele, ebony veneer

BOX: from the left: tatajuba, zircote, maple veneer, zircote, machiche?, redheart

flaws/issues: There is a raised line along the right side of the glue joint of the maple veneer in view 1 on the top of the bowl and continuing upwards from the right corner of the veneer along the inner edge of the padauk in view 3. It's not particularly noticeable but the separation along the padauk is quite obvious to the touch on the under-side of the bowl. I have reduced the price from $135 to $95 because of this.

LATER: the redheart in view 4 has faded noticeably

comments: The knot in the fir in view 3 looks good, as I expected it to, but it caused me to say many bad words while this bowl was on the lathe, because it kept wanting to create chip-out at the end of the piece. I finally threatened it with a razor-sharp finger gouge and it calmed down.

The redheart in view 1 is sapwood, but a particularly pleasant pink color as sometimes happens with redheart --- contrast it with the very nice heartwood piece in view 4. They both look great, but they hardly look like the same wood.

The canary in view 4 mostly got turned off but as you can see from what's left, it's a terrific piece.

The paela in view 2 exhibits a much darker color on the portion towards the center of the bowl --- that's common for this species because it obtains a patina that goes into the wood about 1/8". If I had left the bowl out in the light for a few months (or direct sunlight for a shorter time) before applying the UV blocker, it all would have turned that deep orange.

This one was turned such that the under-rim flows directly into the base, creating a very pleasing overall curve for the entire bottom of the bowl. This is one of my thicker ones and the undercut rim is quite deep, which also adds to making the overall curvature very nice.


---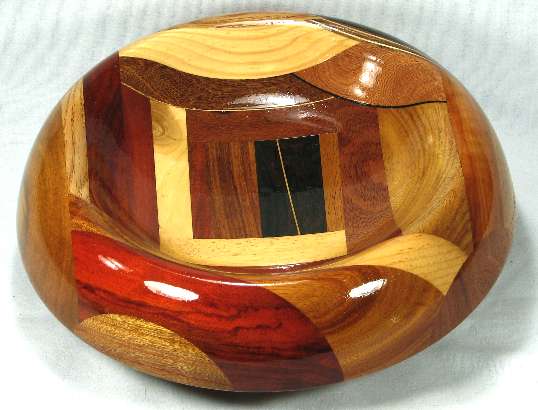 view 5c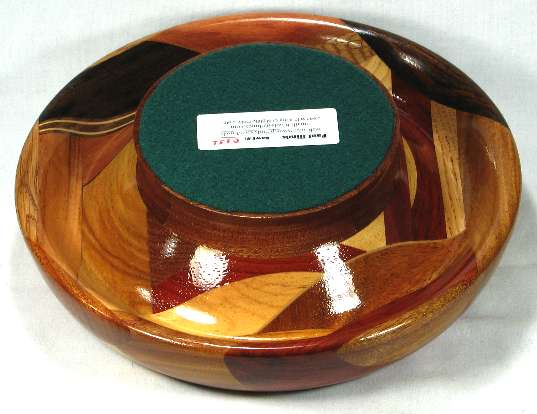 views 5d and 7b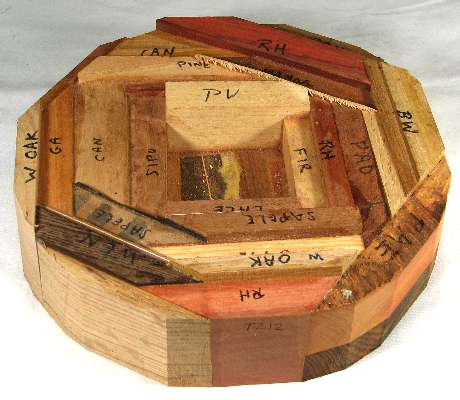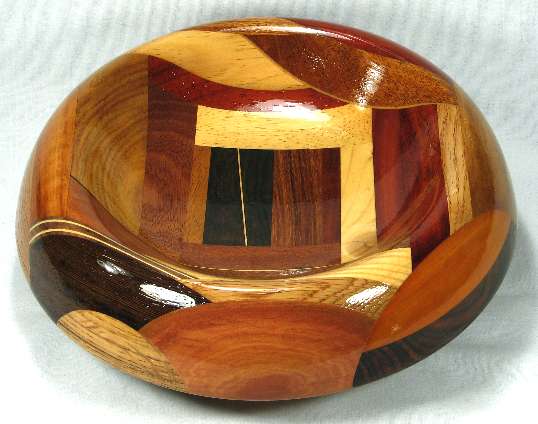 view 1c as the bowl blank and then as the finished bowl