---
go to main page
go to bowl index page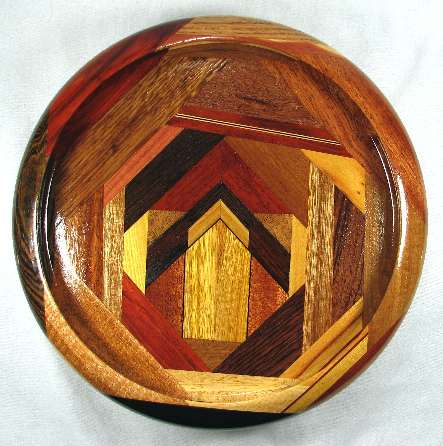 C153 --- $125.00 --- this is the orientation view --- more pics down below

diameter: 10"
height: 2 1/2"

finish: one application of natural stain then 3 coats of high gloss spar polyurethane (with UV blocker)

WOODS USED: [SEE DISCUSSION ON THE MAIN PAGE OF THIS SITE IF ANY OF THIS IS UNCLEAR]

base: yellowheart

view 1: african blackwood, prima vera, afrormosia

view 2: aromatic red cedar, osage orange, two layers of padauk veneer, osage orange, honduras rosewood, BOX

view 3: afrormosia, grenadillo, canary, BOX

view 4: jaboba, osage orange, billy webb wood, BOX

view 5: white oak, red oak, aromatic red cedar, mottled sapele, redheart, holly veneer, ebony veneer, holly veneer, redheart

view 6: white oak, redheart, english brown oak, aromatic red cedar, wenge, BOX

view 7: bocote, machiche, canary

view 8: chestnut, mahogany, redheart, BOX

BOX: from the bottom; canary sided by ebony veneer sided by mahogany. Above the canary is ebony veneer under canary under wenge and will all of that having cocobolo angle off on both sides. At the top is padauk over little wedges of billy webb and at the far right and left are osage orange.

flaws/issues: in the right-middle right of the BOX, the billy webb wood wedge has an edge chipout at the glue joint with the cocobolo that is small but can be both seen and felt. The redheart in view 6 has faded to orangish brown. Some of the other woods are less vibrant now than when the pics were taken, years ago.

The mottled sapele in view 5 has an obvious gum inclusion as you can see in the pics.

comments: this is the first bowl where I have used yellowheart as a base --- it looks very good so I'll use it on more in the future.


---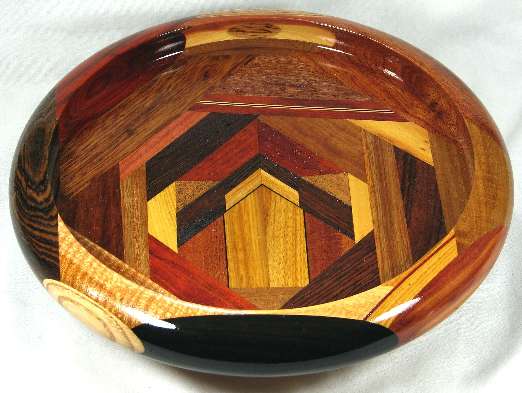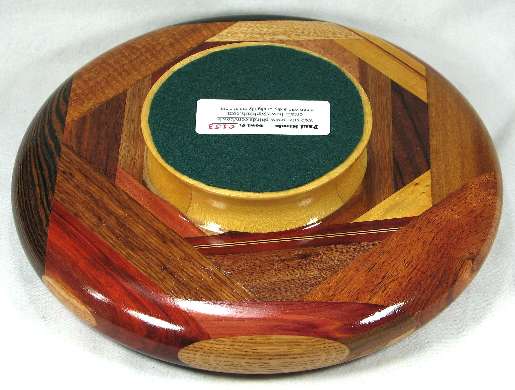 views 1c and 5d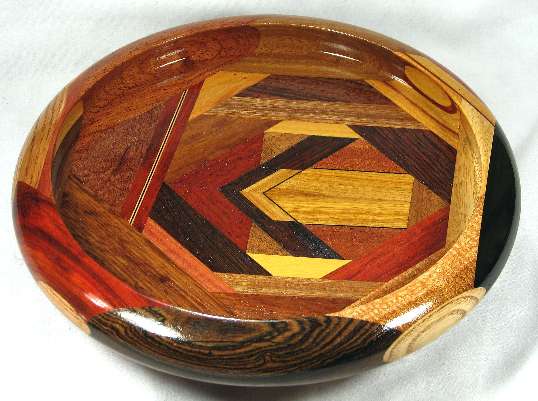 views 6b and 7c


---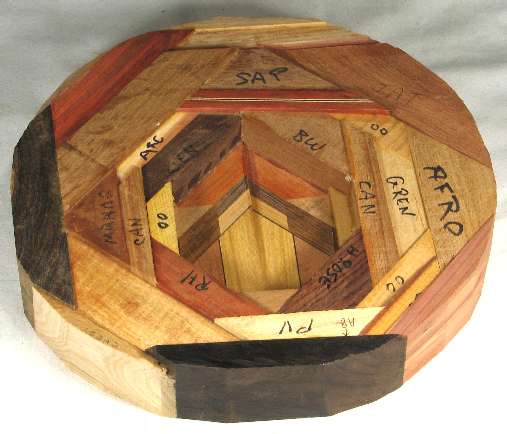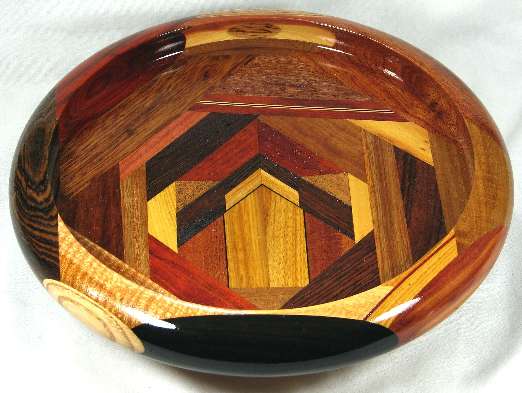 view 1c as the bowl blank and then as the finished bowl