---
go to main page
go to bowl index page

C204 --- $125.00 --- this is the orientation view --- more pics down below

diameter: 9"
height: 2 3/4"

finish: 10 thin coats of satin-finish spar polyurethane (with UV blocker)

WOODS USED: [SEE DISCUSSION ON THE MAIN PAGE OF THIS SITE IF ANY OF THIS IS UNCLEAR]

base:

view 1: zircote over wenge over walnut, eucalyptus, partridgewood, cowtree, canary, BOX

view 2: canary, padauk, paela

view 4: tulipwood, redheart, santos mahogany, yellowheart, BOX

view 5: Honduras rosewood, white oak, 2 layers of ebony veneer, white oak, osage orange, partridgewood, BOX

view 6: walnut, bocote, sapele, yellowheart, BOX. The bocote had a hard maple thin under it and some of that remains as an arc on the bottom of the bowl.

view 8: partridgewood stripe through yellowheart, yellowheart, curly maple, paela, BOX

BOX: upper and lower pieces are Honduras rosewood, as are the triangular side pieces. The jagged lamination is, from left to right, wenge, bloodwood, yellowheart, ? (dark brown wood), Honduras rosewood, East Indian rosewood, curly maple, yellowheart, wenge.

flaws/issues: the bloodwood in view 4 has a circular flaw inside the rim --- it's a little hole that went through to the canary and is right next to the small canary oval. I find it very annoying, but that's just me.

comments: lots of nice woods in this one with the tulipwood in view 4 and the bocote in view 6 being particularly nice. The white oak pieces in view 5 show their ray flakes as ovals, both inside and outside the rim, which I find very pleasing.


---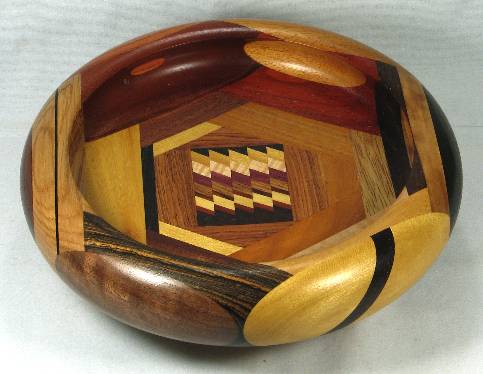 view 7c




view 4b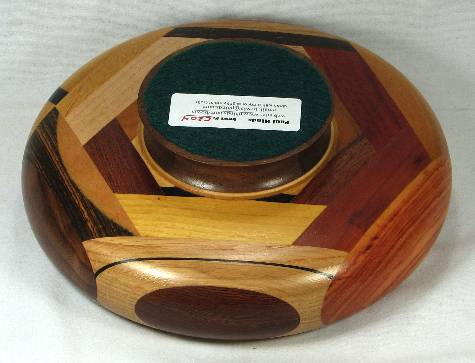 view 5d


---