---
go to main page
go to bowl index page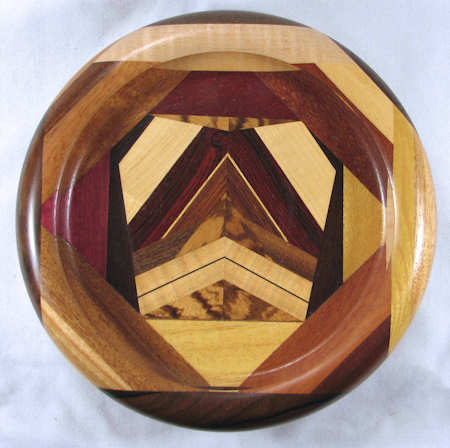 C208 --- $35.00 --- this is the orientation view --- more pics down below and see the notes on "flaws/issues" below

diameter: 9"
height: 2 1/2"

finish: 10 thin coats of satin-finish spar polyurethane (with UV blocker)

WOODS USED: [SEE DISCUSSION ON THE MAIN PAGE OF THIS SITE IF ANY OF THIS IS UNCLEAR]

base: sycamore

view 1: zircote, obechee, BOX

view 2: sapele, makore

view 3: canary(?) over ebony over curly maple, osage orange, yellowheart, BOX

view 4: partridgewood, pine, leopardwood, BOX

view 5: walnut, curly maple, padauk, BOX

view 6: canary, partridge, mahogany, BOX

view 7: macassar ebony, purpleheart, BOX

view 8: yellowheart, eucalyptus, cumaru

BOX: paired up the middle are: zebrawood, curly maple, ebony veneer, curly maple, zebrawood with walnut off to the side, Honduras rosewood, 2 layers of maple veneer, cocobolo with hard maple off to the side, zebrawood. The outer wedges are partridgewood

flaws/issues: The glue line at the bottom of the BOX has developed a slight stress separation that you can both see and feel so I have lowered the price from $125 to $95.

LATER: the stress separation mentioned above has worsened to the point that if you hold the bowl up to the light you can see all the way through it in this area. Additionally, another much less significant separation has developed along the inner edge of the cumaru in view 8. Because this is still a very nice bowl, I've dropped the price to clearance rather than put it in the barbecue pit as I often do when these separations develop.

comments: several nice omega curves inside the rim and ovals around the outside.


---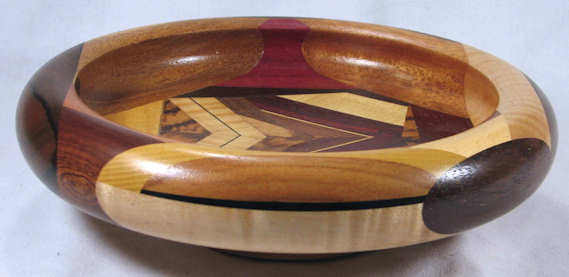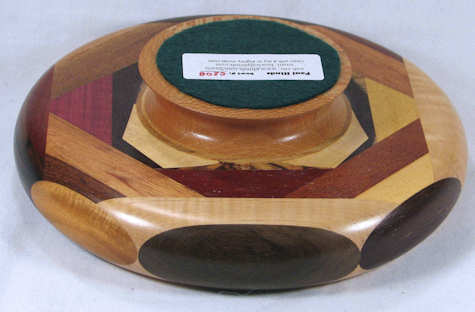 views 3a and 5d




views 7b and 8a


---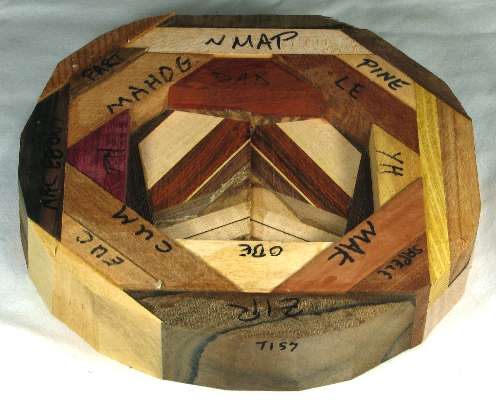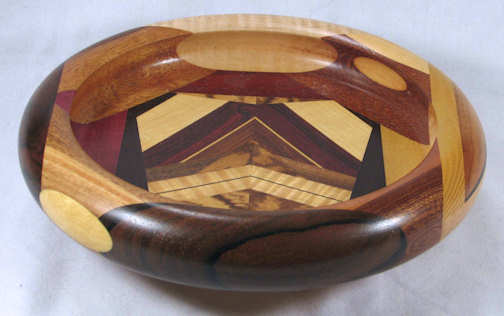 view 1c as the bowl blank and then as the finished bowl