---
go to main page
go to bowl index page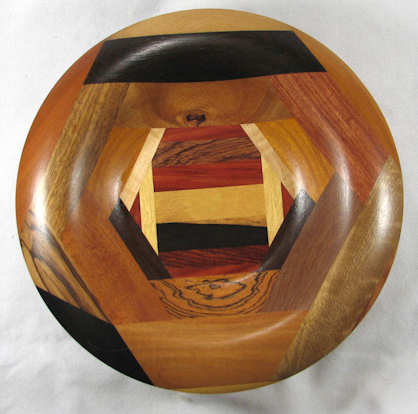 C228 --- $95.00 --- this is the orientation view --- more pics down below

diameter: 9"
height: 2 1/2"

finish: 12 thin coats of satin-finish spar polyurethane (with UV blocker)

WOODS USED: [SEE DISCUSSION ON THE MAIN PAGE OF THIS SITE IF ANY OF THIS IS UNCLEAR]

base: walnut

view 1: yellowheart, canary, bocote, BOX

view 2: Honduras rosewood, oxhorn, mansonia, wenge, box

view 4: canary, bubinga, paela, curly maple, BOX

view 5: yellowheart, wenge, billy webb wood, BOX

view 6: mahogany, shedua, paela, curly maple, BOX

view 8: zebrawood to the left of ebony, mahogany, wenge, BOX

BOX: outer wedges are redheart and inside those are yellowheart. The middle, from the bottom up, is redheart, Honduras rosewood, African blackwood, yellowheart, redheart, Honduras rosewood, redheart

flaws/issues: The billy webb wood in view 5 has a small knot, but that's character, not a flaw. The canary on view 4 has a separation that is obvious on the bottom but not on the top

comments: The one is particularly hefty because of the rim design, which is basically a donut that has been wedge-shaped at the outside and inside --- there's a lot of wood there. I didn't do this for the heft but rather because I really like the shape. This is the first bowl that I have done of this shape, but I like it so I figure I'll do more of them eventually. I have classified this as a "C6" type bowl, but it is a bit different from the normal C6, with NO flat surfaces on the rim, although having the general shape of a C6. It's a real pleasure to hold, and the rim woods are quite nice. The BOX, I'm sorry to say, is a bit prosaic but does contain nice woods.


---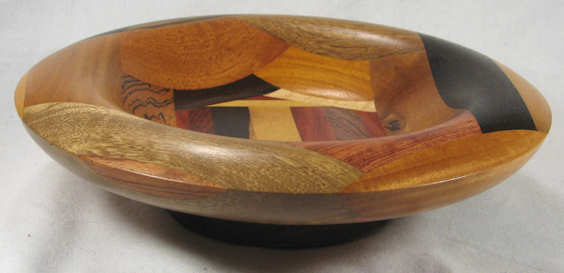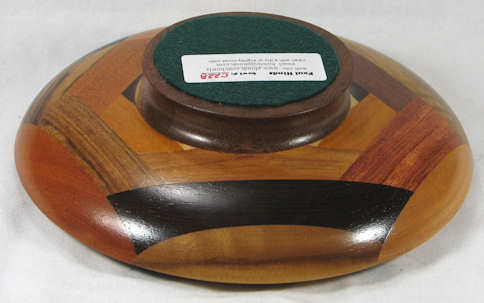 views 3a and 5d





views 6b and 8b


---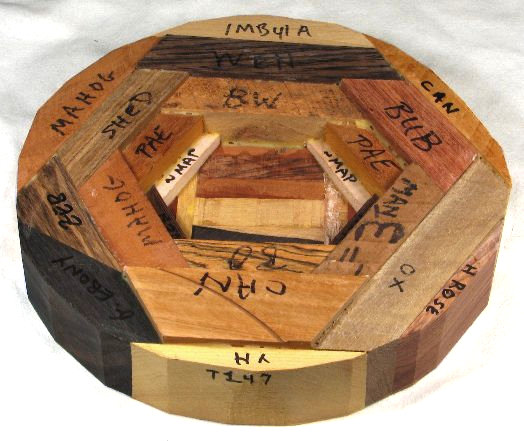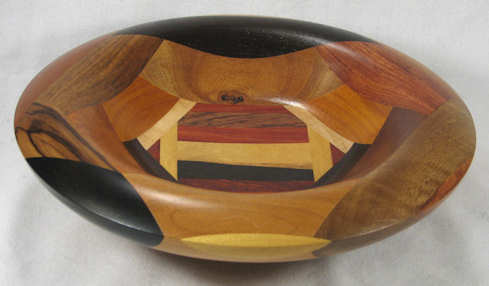 view 1c as the bowl blank and then as the finished bowl