---
go to main page
go to bowl index page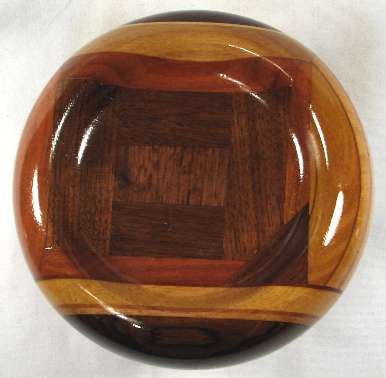 SOLD
F102 --- $SOLD --- this is the orientation view --- more pics down below

diameter: 5 3/4"
height: 4"

finish: one application of natural stain then one coat of high gloss regular polyurethane then one coat of high gloss spar polyurethane (with UV blocker)

WOODS USED: [SEE DISCUSSION ON THE MAIN PAGE OF THIS SITE IF ANY OF THIS IS UNCLEAR]

base: African mahogany

center: walnut

view 1: bocote over zebrawood, both backed by mahogany thin, mahogany veneer, yellowheart?, mahogany veneer

view 3: osage orange, mahogany veneer, osage orange, mahogany thin, sycamore, padauk veneer, anigre, osage orange, anigre, walnut, all bakced by a wedge of walnut and makore

view 5: cocobolo over hard maple backed by bocote backed by sycamore and all of that backed by a hard maple thin then anigre? then makore

view 7: Honduras mahogany backed by walnut

flaws/issues: the upper anigre strip in view 3 has a series of what appear to be small gum inclusions, as does the anigre backing in view 5. It is possible that these are rough spots due to end grain turning since both occur where the end grain came directly into the chisel.

comments: This is one of the early "dried flower holder" shapes that was intended to have holes drilled in the un-hollowed-out middle to hold dried flowers. If you would like to HAVE those holes, I will drill them and add a sealant, but it may take several extra weeks to finish it, depending on my availability to work on it. There will be no extra charge. To get a feel for what it will look like, see bowl B116.


---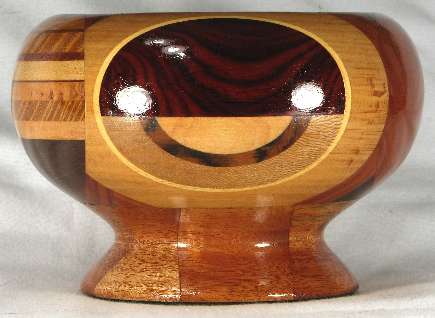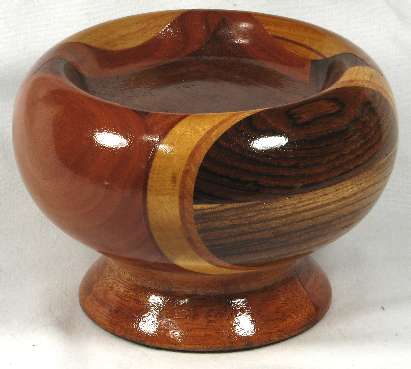 views 5b and 8a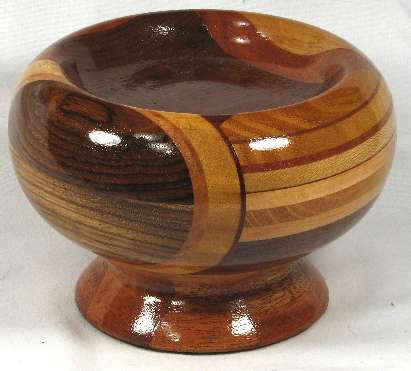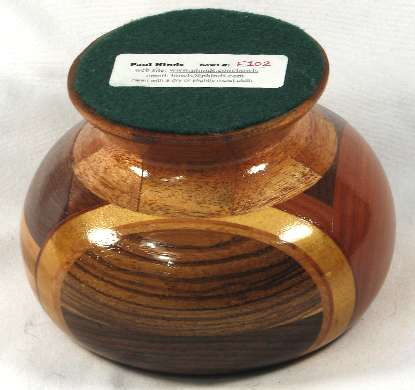 views 2a and 1d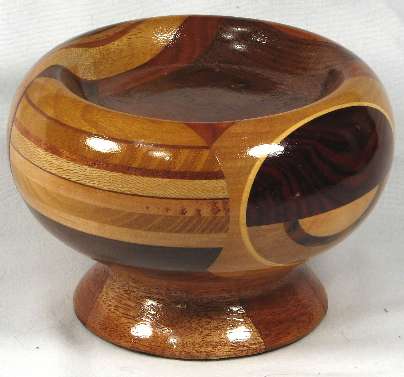 view 4c as a bowl blank and 4a as the finished bowl