---
go to main page
go to bowl index page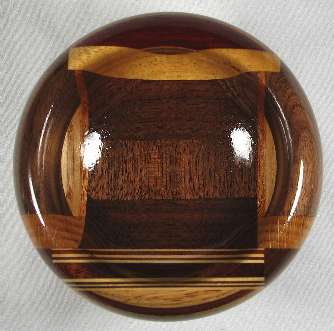 SOLD
F105 --- $SOLD --- this is the orientation view --- more pics down below

diameter: 4 1/2"
height: 3 7/8"

finish: one application of natural stain then one coat of high gloss regular polyurethane then one coat of high gloss spar polyurethane (with UV blocker)

WOODS USED: [SEE DISCUSSION ON THE MAIN PAGE OF THIS SITE IF ANY OF THIS IS UNCLEAR]

base: mahogany with maple veneer and mahogany thins

center: walnut

view 1: oak, mahogany laminate, oak, laminate of padauk with maple veneer, mahogany, walnut veneer, oak, walnut veneer, mahogany and then a thin wedge of ? --- all of this is backed by a laminate of alternating light and dark wood then a thicker piece of walnut then another laminate that also extends down to the bottom of the view.

view 3: walnut, oak, padauk, all backed by a laminate and with oak to the left

view 5: padauk, thin mahogany, two thin brown woods, thin oasage orange, padauk, thin oak, walnut, misc lamination ending in a small wedge of ash --- all of this is backed by yellowheart and with vertical walnut wedges to the sides

view 7: same as view 3

flaws/issues: none

comments: The base on this one was an experiment that I think turned out to be quite nice.


---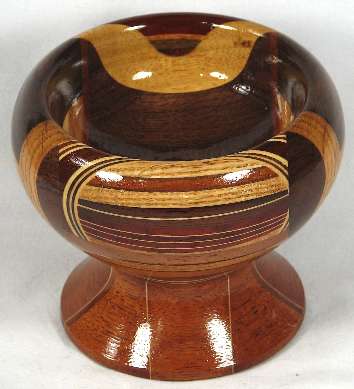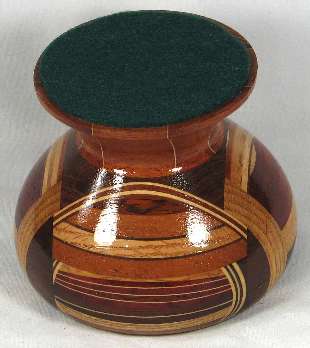 views 1c and 1d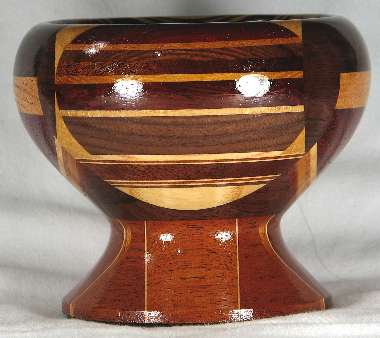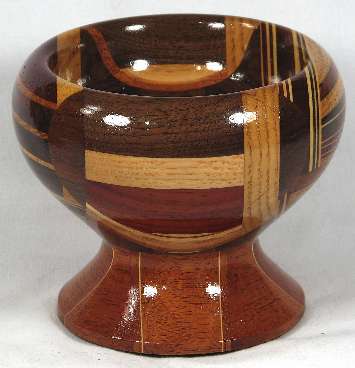 views 5b and 7a


---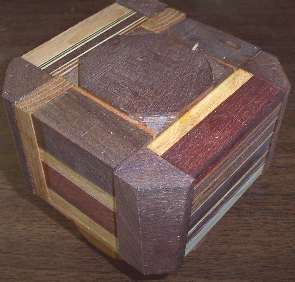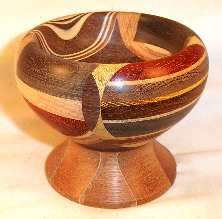 views 4c as a bowl blank (WITH natural stain) and view 4a raw (fresh off the lathe)--- the lighter color of the raw version relative to the finished bowl due to two factors --- first the raw shot was taken with a different camera but more importantly the bowl sat around for over a year before I put on the final finish so it darkened some with age although not as much as would seem to be the case from these pics; the raw pic shows the colors as lighter than they really were.