---
go to main page
go to bowl index page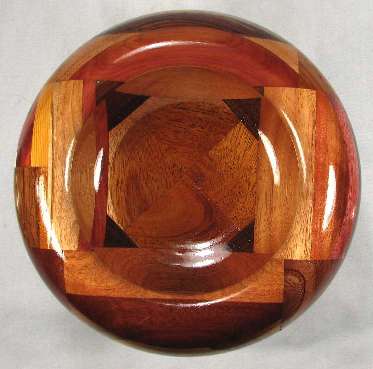 G22 --- $175.00 --- this is the orientation view --- more pics down below

diameter: 6 1/2"
height: 6"

finish: one application of natural stain then 3 coats of high gloss spar polyurethane (with UV blocker)

WOODS USED: [SEE DISCUSSION ON THE MAIN PAGE OF THIS SITE IF ANY OF THIS IS UNCLEAR]

base:
top: sipo (4 sections)
middle: views 2 and 6 are green-tinted tulip poplar over eucalyptus
middle: views 4 and 8 are sapele and then cowtree (in view 4 the sapele has a little oval on the cowtree)
bottom: white oak (4 sections)

center: the bottom is 4 sections of Honduras mahogany with okoume showing around the left and top. The 4 corner wedges are walnut

view 1: The upper half of a star of David is bloodwood surrounded by yellowheart with upper left and upper right slants of tzalam and above that is purpleheart. Below the half-star is ebony veneer then osage orange backed by red oak then aromatic red cedar. All of that is backed by jatoba.

view 2: santos mahogany

view 3: redheart over cabreuva over three pieces of african blackwood separated by holly veneer, then goncalo alves all backed by birch.

view 4: canary over partridgewood

view 5: The complex lamination that is the outer oval is: on top, cocobolo and on the bottom paela, and in the middle osage orange. To both sides of the osage orange there are slabs of bocote and above and below the bocote are laminations of, from the top down: white oak veneer, thick walnut veneer, maple veneer, bubinga veneer, maple veneer, thick walnut veneer, birch veneer. Behind all of that is thick walnut veneer then aromatic red cedar over anigre over aromatic red cedar.

view 6: canary over partridgewood

view 7: On the left is yew over aromatic red cedar over a tiny wedge of holly over ? (very dark reddish wood) over aromatic red cedar. On the right is mahogany over Honduras rosewood over mahogany over Honduras rosewood. Under both sides is cherry then walnut then ? (light colored wood) then aromatic red cedar. Behind all that is birch then aromatic red cedar

view 8: santos mahogany

flaws/issues: The santos mahogany in view 2 has some chipouts on the left edge as you can see in the closeup down below. I tried to turn the surface down a little to get rid of these but it was hopeless. That particular piece in that particular orientation was just too brittle to not get chipout.

comments: The half-star-of-David in view 1 was part of an abortive attempt to create what finally ended up as bowl #S004.

The white oak at the bottom of the base shows some very nice long rays that are chatoyant (except for the section in view 5 which just stay dark as you move the bowl in the light.


---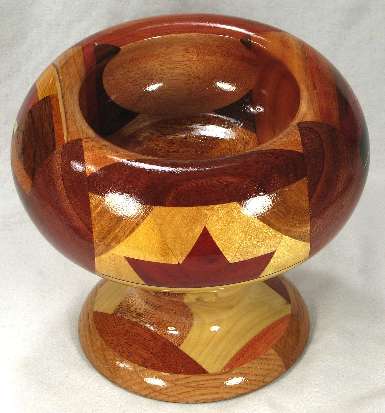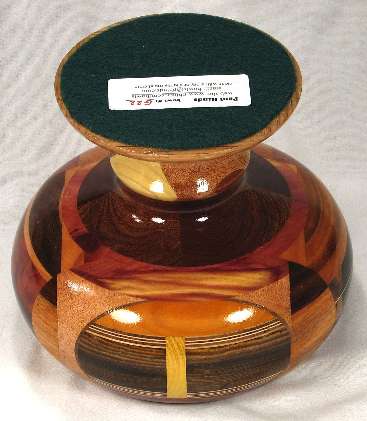 views 1c and 5d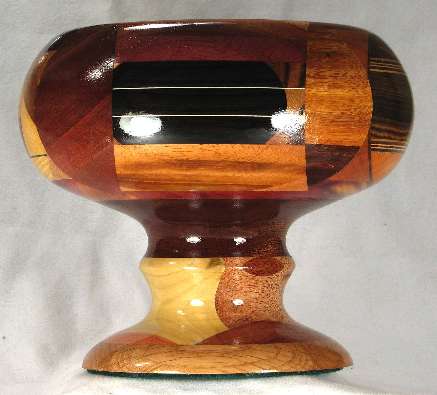 views 4a and 3b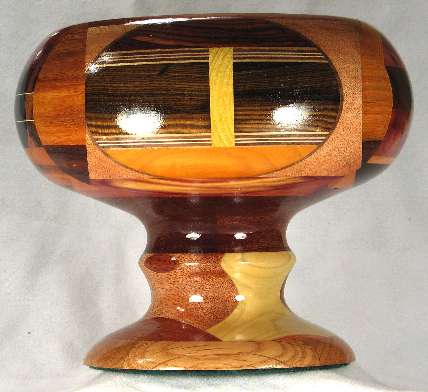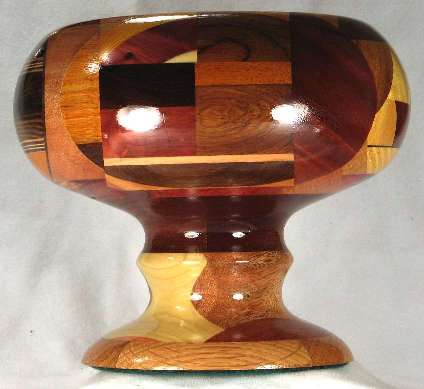 views 5b and 7b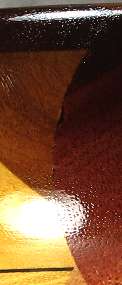 closeup of the small chipouts in the santos mahogany


---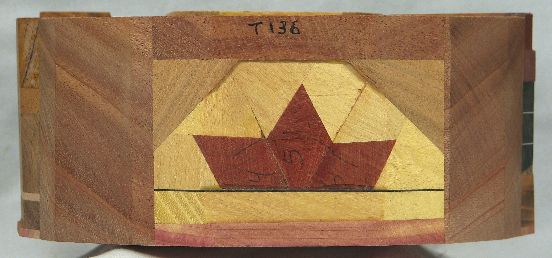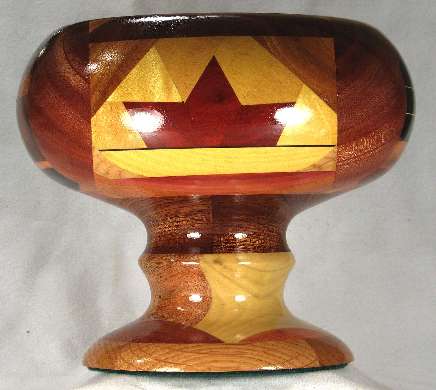 view 1b as the bowl blank and then as the finished bowl