---
go to main page
go to bowl index page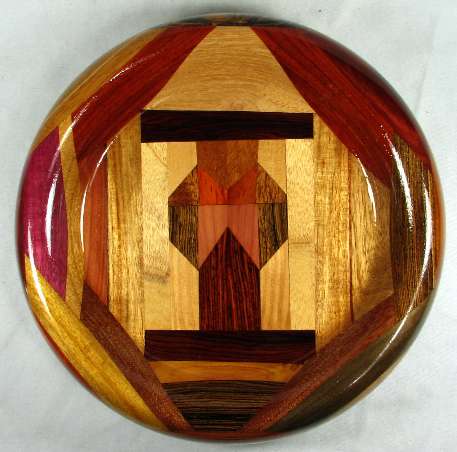 N16 --- $95.00 --- this is the orientation view --- more pics down below

diameter: 10"
height: 2 3/8"

finish: one application of natural stain then 3 coats of high gloss spar polyurethane (with UV blocker)

WOODS USED: [SEE DISCUSSION ON THE MAIN PAGE OF THIS SITE IF ANY OF THIS IS UNCLEAR]

base: sassafras

view 1: aromatic red cedar, bocote, osage orange, cocobolo, BOX

view 2: curly red maple, dark green tinted (mineral stained) tulip poplar, sipo

view 3: nicely chatoyant paela with a deep, rich, golden-brown color, then bocote, canary, thick mahogany veneer, canary, BOX

view 4: zircote (small amount of sapwood on the left) over tatajuba, backed by redheart then padauk

view 5: paela backed by a BEAUTIFUL piece of bocote, both over aromatic red cedar then a big wedge of canary, BOX

view 6: afrormosia? over redheart both backed by maple veneer, tatajuba, padauk

view 7: purpleheart, purpleheart, canary, aromatic red cedar, thick mahogany veneer, canary, BOX

view 8: redheart, canary, sipo

BOX: top and bottom horizontals are cocobolo, left and right verticals are prima vera, lower middle is cocobolo sided by Douglas fir and over that is red aromatic cedar sided by bocote and over that is padauk sided by mahogany and over that is mahogany sided by ? (light tan)

flaws/issues: In the lower left of the BOX, there is a very slight indentation. I don't remember knocking this into anything, but I have to believe I did, since it is clearly a dent. It IS very minor, but as always, I try to point out anything I see that could be considered a flaw. There has been some color fading since the bowl was made, many years ago.

A more significant flaw is that the cocobolo at the very top of the BOX has developed a hairline stress separation from the canary of view 5 and has pulled that canary enough to cause a small, short, crack along one edge next to the BOX.

The prima vera on the right side of the box as a tiny hairline separation that is hardly visible and just noticeable to the fingernail.

comments: The shape of this one is, to my mind, just outstanding. The graceful curve of the rim is complemented nicely by the corresponding undercut from the bottom, all of which combines to give the laminated wood a wonderful curvature. LOTS of excellent wood in this on and the bocote in view 5 is particularly good both in grain pattern and in the way the shape turned out: the choice of paele to go in front of it works beautifully.

The purpleheart pieces in view 7 show a nice contrast of the kinds of color you get in purpleheart. The inner piece is a vibrant purple with no chatoyancy and the outer piece is a lighter color but it IS chatoyant.


---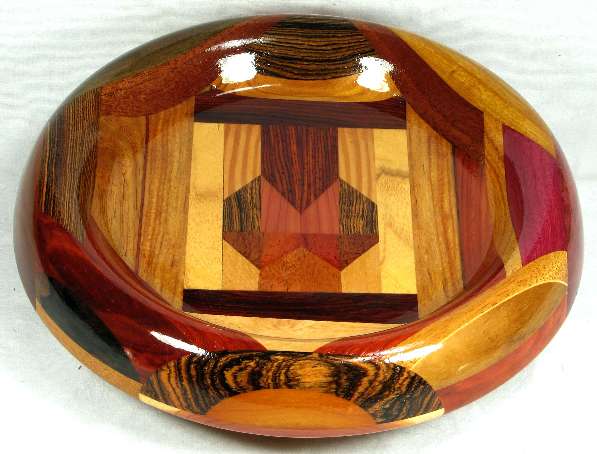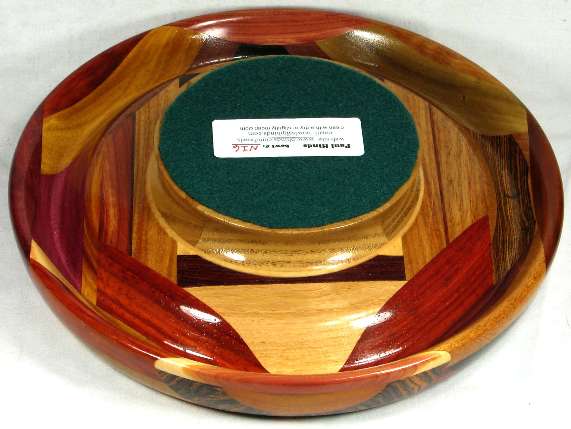 views 5c and 5d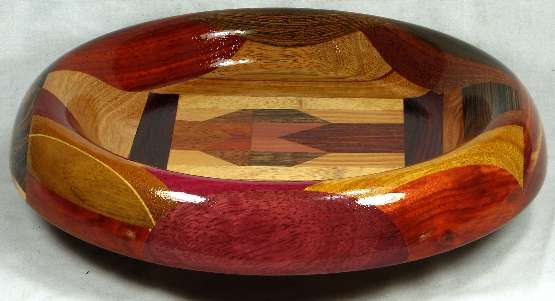 views 3b and 7a


---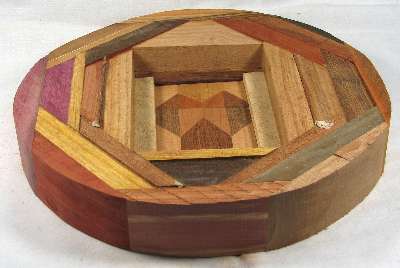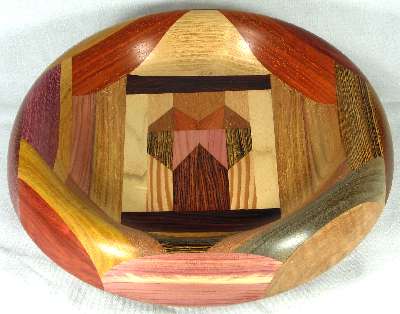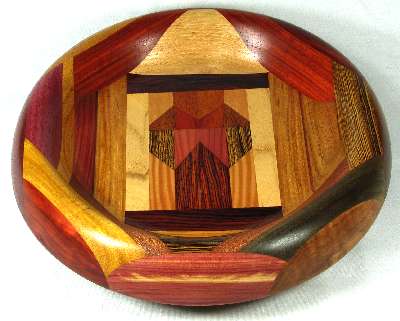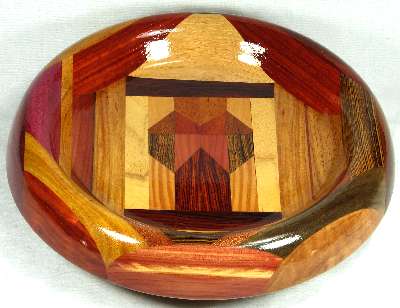 view 1c, first as the bowl blank, then raw (fresh off the lathe), then with an application of natural stain, then as the finished bowl