---
go to main page
go to bowl index page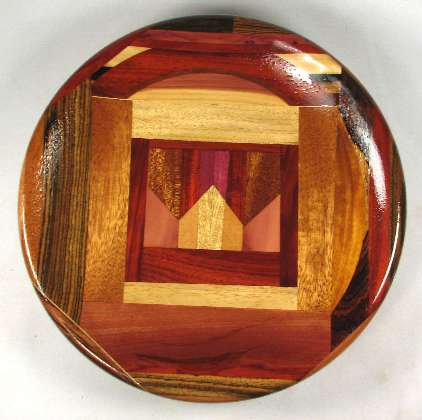 N26 --- $85.00 --- this is the orientation view --- more pics down below

diameter: 9"
height: 2 1/4"

finish: one application of natural stain then three coats of high gloss spar polyurethane (with UV blocker)

WOODS USED: [SEE DISCUSSION ON THE MAIN PAGE OF THIS SITE IF ANY OF THIS IS UNCLEAR]

base: American black walnut

view 1: eucalyptus, bocote, redheart, prima vera, bloodwood, BOX

view 2: eucalyptus

view 3: bocote, redheart, cocobolo (with sapwood), ?, mahogany, redheart, BOX. Under the redheart is oak and under the ? is ? (walnut?) and grenadillo

view 4: mahogany

view 5: bocote over sycamore and ? (African blackwood?) over narra, red aromatic cedar, redheart, pine, redheart, red aromatic cedar, prima vera, redheart, BOX

view 6: redheart

view 7: ?, mahogany, bocote, mahogany, redheart, BOX. Under the bocote is sen and mahogany

view 8: chechem (gorgeous piece!), hard maple veneer

BOX: bottom middle is obeche sided by fir sided by madrone --- top middle is purpleheart sided by padauk sided by mahogany

flaws/issues: There is a separation to the right of the box (see pic of view 1c below) and the aromatic red cedar on the bottom, view 5, has an internal crack in the sapwood that is both visible and can be felt. The redheart in view 1 has an internal crack. Both of the wood cracks are just wood flaws, not stress separations.

LATER: the redheart pieces have all faded to brown or reddish brown

comments: The chechem in view 8 is modest in size but it's a real standout in looks and is beautifully set off by the maple veneer behind it.

The rim is quite "busy" on this one, having numerous complex laminations. That, of course, can be good news or bad news depending on your taste.


---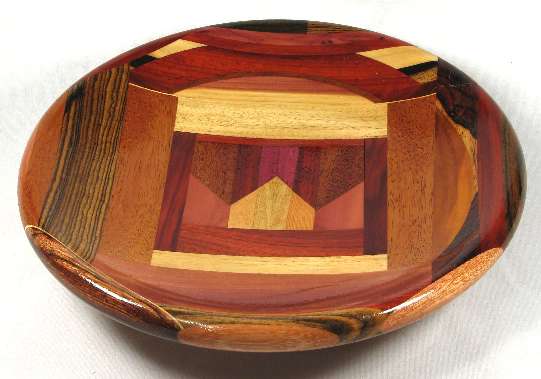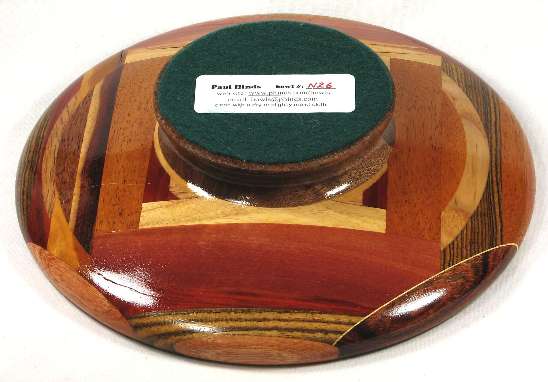 views 1c and 1d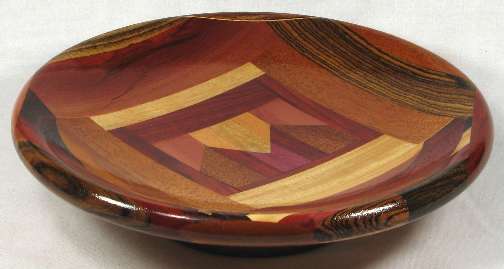 views 4a and 4b


---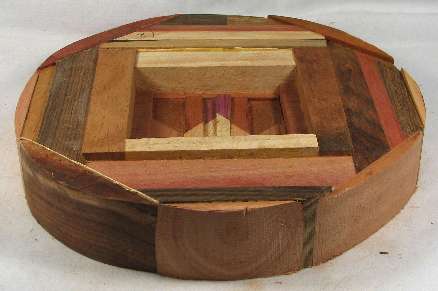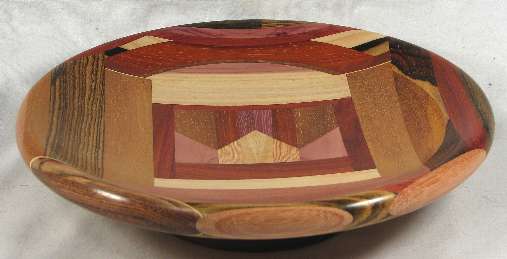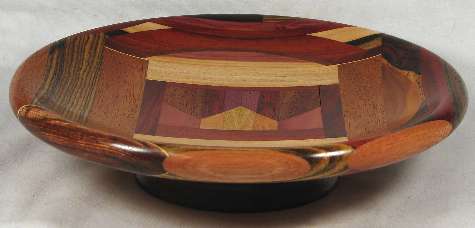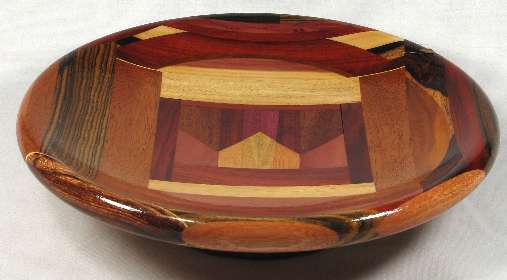 view 1a first as a bowl blank, then fresh off the lathe then with one application of natural stain, then finished