---
go to main page
go to bowl index page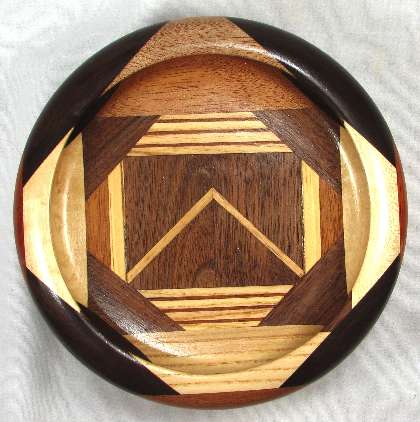 SOLD
N33 --- $SOLD --- this is the orientation view --- more pics down below

diameter: 7"
height: 2 1/2"

finish: finish: 10 thin coats of satin-finish spar polyurethane (with UV blocker)

WOODS USED: [SEE DISCUSSION ON THE MAIN PAGE OF THIS SITE IF ANY OF THIS IS UNCLEAR]

base: American black walnut

view 1: makore, ash, BOX

view 2: partridgewood, walnut, BOX

view 3: padauk, hard maple, mahogany, pine, BOX

view 4: partridgewood, walnut, BOX

view 5: African mahogany, BOX

view 6: partridgewood, walnut, BOX

view 7: padauk, hard maple, mahogany, pine, BOX

view 8: partridgewood, walnut, BOX

BOX: corners are walnut, upper and lower segments are a lamination of ash and walnut, and the middle is walnut with diagonals of red oak

flaws/issues: upper left box corner walnut has a thin crack that really just looks like a dark grain line.

The pine to the left and right of the box both had substantial stress separations from the walnut of the box so I re-turned the bowl and refinished it. The separations are still visible but they are smaller than they were and now they are filled with glue. There is a slight ridge at each where the glue expanded just a bit after I put on the finish --- you can see it and feel it). These are much more minor compared to the major separation that existed before I re-turned it, but the bowl is still flawed and I priced pretty low because of that.

comments: This one is symmetrical about a line from view 1 to view 5, and I didn't actually mean to do that --- I don't much like total symmetry and I usually remember to break the symmetry in blanks that I start off symmetrical but on this one, I forgot.

The partridgewood looks black in the pics but it is really a deep dark brown with visible grain lines if you angle it right in a bright light.


---


view 3b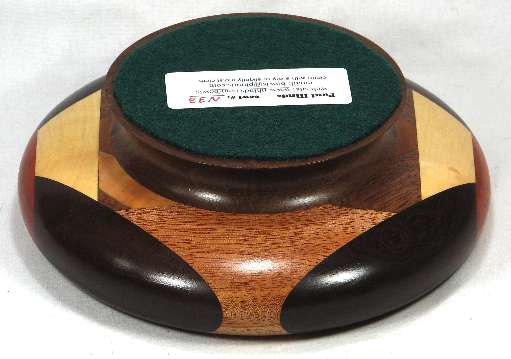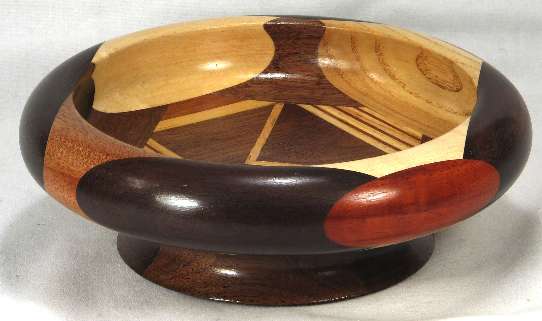 views 5d and 6a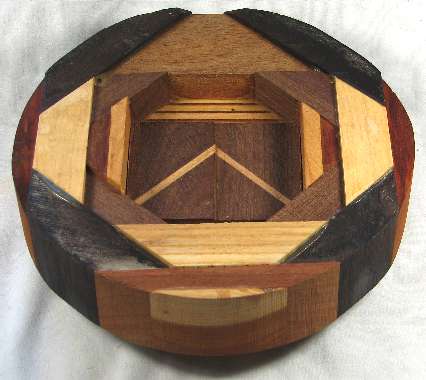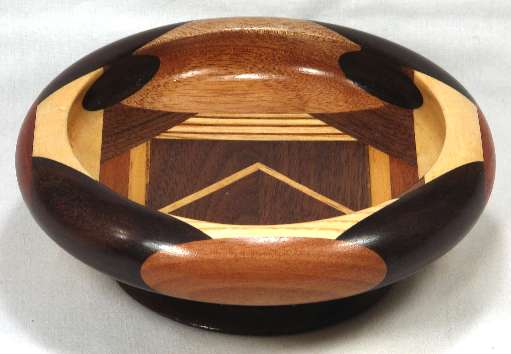 view 1c as a bowl blank then as the finished bowl