---
go to main page
go to bowl index page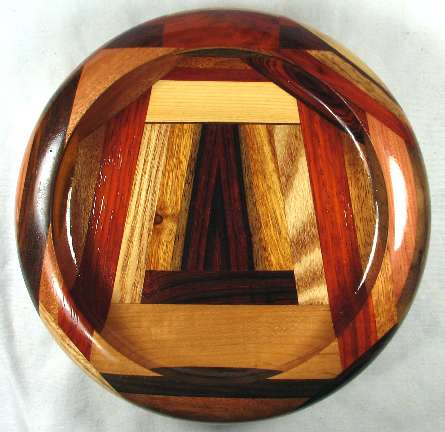 SOLD
N61 --- $SOLD --- this is the orientation view --- more pics down below

diameter: 9"
height: 2 1/2"

finish: an application of natural stain followed by 3 coats of high gloss spar polyurthane (with UV blocker)

WOODS USED: [SEE DISCUSSION ON THE MAIN PAGE OF THIS SITE IF ANY OF THIS IS UNCLEAR]

base: American black walnut

view 1: aromatic red cedar, sapele?, ebony veneer, walnut, cherry, BOX

view 2: cocobolo

view 3: aromatic red cedar over walnut over oak, mahogany, padauk, BOX

view 4: aromatic red cedar, cocobolo with sapwood, bloodwood, cocobolo

view 5: small oval of eucalyptus then the middle, from the top: redheart, oak, mahogany veneer, maple veneer, mahogany veneer, bocote, mahogany veneer, maple veneer, padauk veneer. All of that sided by cocobolo over padauk over ? and under all of the preceeding is a thin arc of aromatic red cedar. Behind all of the preceeding is mahogany, padauk, BOX

view 6: sipo, makore

view 7: aromatic red cedar backed by cocobolo and both over paela w/ flaws. all backed by mahogany, padauk, BOX

view 8: red oak

BOX: bottom is cocobolo, top is pine over thick mahogany veneer. In the middle is cocobolo sided by canary sided by sen sided by the padauk of views 3 and 7. The sen is showing a quartersawn surface on the left piece and a flat cut surface on the right piece, so it is not immediately apparent that they are the same wood.

flaws/issues: The paela in view 7 has gum pockets on the bottom but that was the price I paid for the dark streaks which I like. This is a marvelously chatoyant piece and I'm quite pleased with it but I understand that some people will see the gum pockets as flaws so I point them out.

There's a tiny indentation in the very center where I was careless about not making sure the whole surface was flat. Don't quite know how I missed this, but I did. Sometimes these things are hard to see until the polyurethane is applied then they stick out like a sore thumb (this one isn't bad at all but is visually noticeable although imperceptable to the touch)

The base is slightly rougher to the touch than I normally allow

comments: I am particularly pleased with the BOX on this one --- really excellent pieces of cocobolo and canary in what I find to be a very pleasing design.


---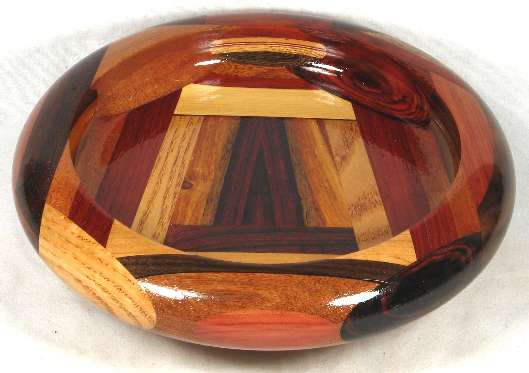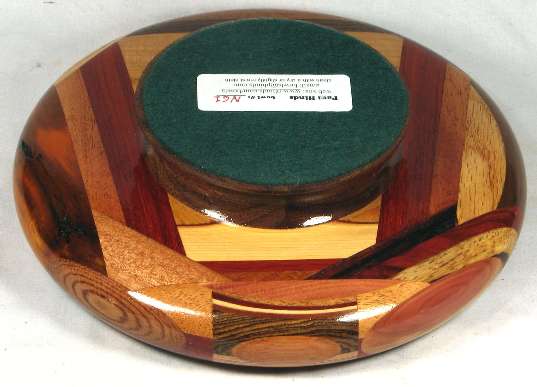 views 1c and 5d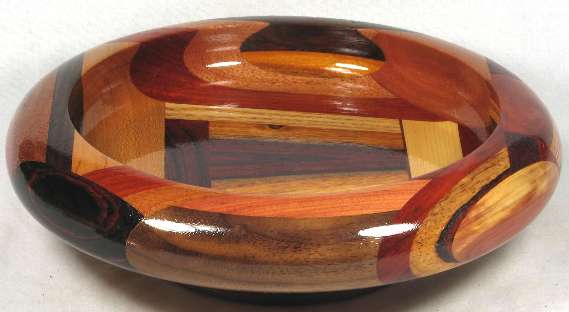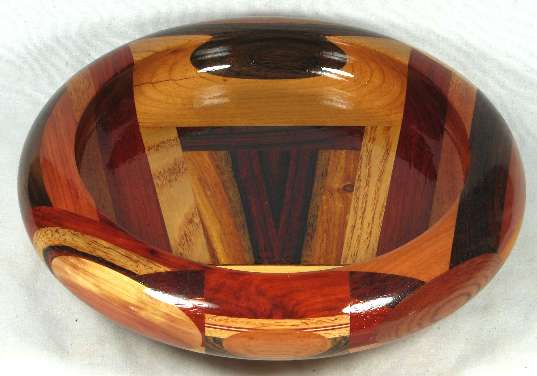 views 3a, 5c, and 7b


---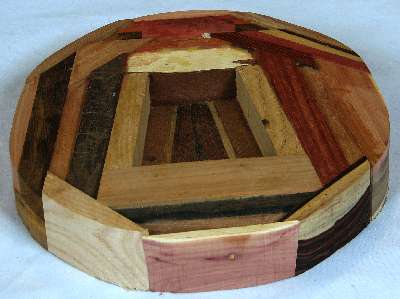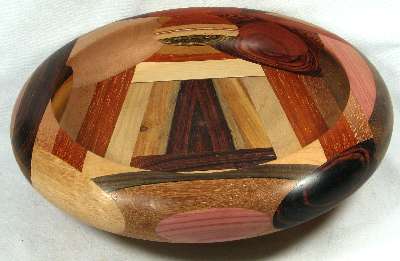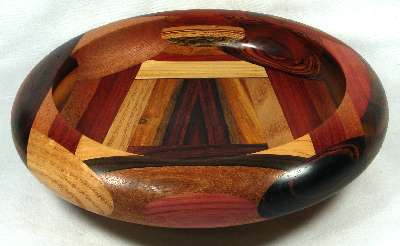 view 1c, first as the bowl blank, then raw (fresh off the lathe), then with an application of natural stain, then as the finished bowl