---
go to main page
go to bowl index page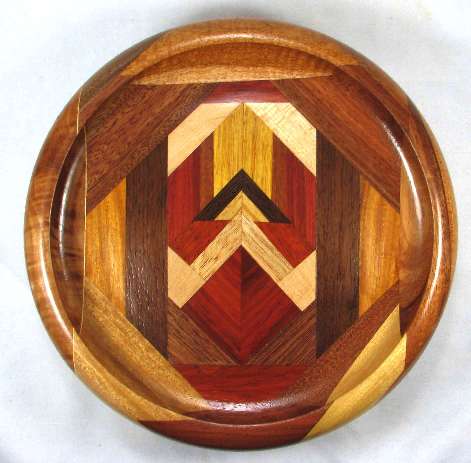 N69 --- $35.00 --- this is the orientation view --- more pics down below and see the notes on "flaws" below

diameter: 10"
height: 2 1/2"

finish: old finish was one application of natural stain then 3 coats of high gloss spar polyurethane (with UV blocker), new finish is 10 thin coats of satin-finish polyurethane (with UV blocker)

WOODS USED: [SEE DISCUSSION ON THE MAIN PAGE OF THIS SITE IF ANY OF THIS IS UNCLEAR]

base: mahogany

view 1: machiche, padauk, BOX

view 2: ?, yellowheart, mahogany

view 3: mahogany (with 2 colors), paela, walnut, BOX

view 4: mahogany(?), mahogany

view 5: curly African mahogany, redheartd, BOX

view 6: mahogany, mahogany

view 7: curly red maple, hard maple veneer, padauk, walnut, BOX

view 8: hard maple, billy webb wood

BOX: starting at the top: outer wedges are hard maple, then in the middle is canary sided by mahogany sided by bloodwood, all over wenge over canary over padauk over cowtree, over hard maple (at the sides pointing outward) over padauk over walnut wedges in the lower corner.

flaws/issues: The BOX had a noticeable stress separation of the walnut in the lower right corner from the padauk and minor separations of the middle right side of the box from the walnut of view 3 and of the lower left walnut from the padauk of view 1. I returned and refinished the bowl and now the stress separations are gone, BUT the glue-line at those joints is larger than normal and the glue is slightly raised, resulting in a "ridge-line" of glue that can be both seen and felt. LATER: the same stress separation has returned, although to a lesser degree --- still quite noticeable to the touch but not particularly visible. Consequently, I have reduced this to a very low price even though the visual appeal of the bowl is unchanged.

comments: Outstanding pattern and woods on this one. If it were not for the remaining glue-ridge-lines at what used to be the stress separations, I'd price it higher.


---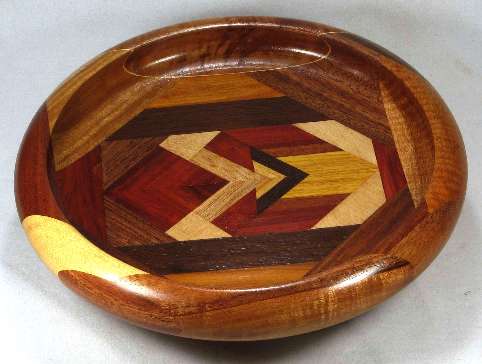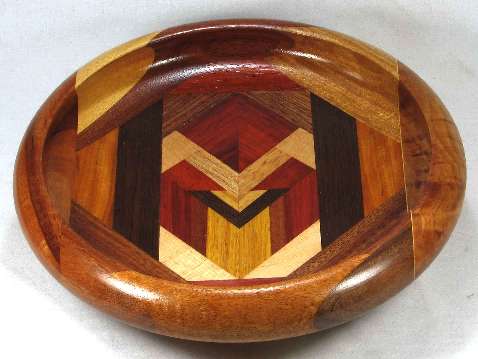 views 3c and 5c





views 2b and 6b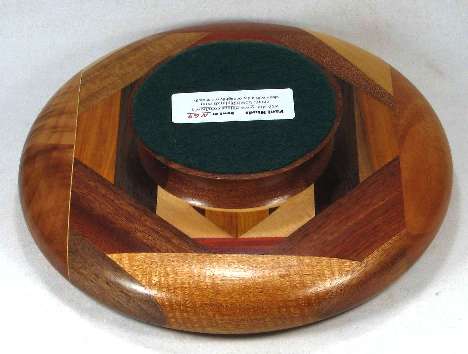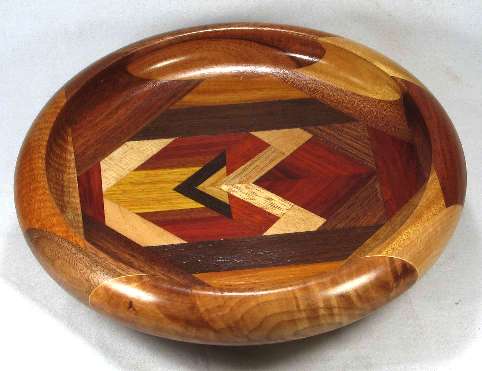 views 5d and 7c


---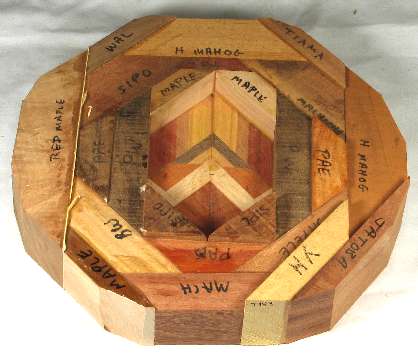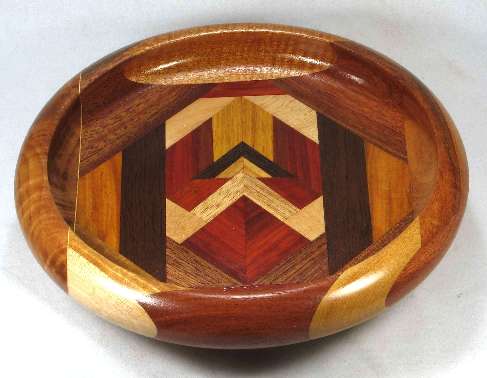 view 1c as bowl blank and as the finished bowl