---
go to main page
go to bowl index page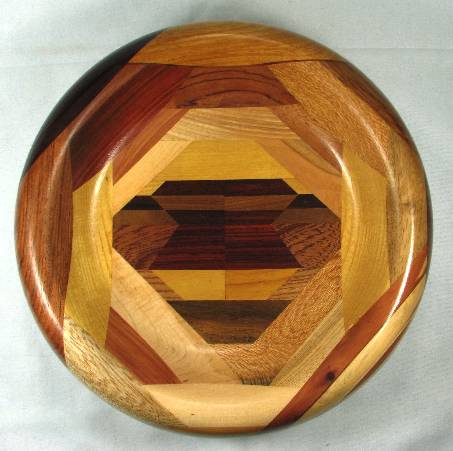 N99 --- $75.00 --- this is the orientation view --- more pics down below and see notes on "flaws" below

diameter: 9 1/2"
height: 3"

finish: Originally finished with one application of natural stain then 4 coats of high gloss spar polyurethane (with UV blocker), this bowl had such a poor finish that I stripped it, lightly returned it, and then applied 10 thin coats of satin-finish spar polyurethane (with UV blocker) and it now looks just fine.

WOODS USED: [SEE DISCUSSION ON THE MAIN PAGE OF THIS SITE IF ANY OF THIS IS UNCLEAR]

base: Honduras mahogany

view 1: partridgewood, osage orange, birch, silky oak with blue-stained sapwood, BOX

view 2: The first laminated section is African blackwood over holly over aromatic red cedar and behind that is white oak, then cabreuva over white oak, then two layers of maple veneer, aromatic red cedar (mostly sapwood), thick mahogany veneer, aromatic red cedar, chestnut, silky oak, Peruvian walnut, BOX

view 3: walnut, butternut, osage orange, BOX

view 4: English brown oak over fir, silky oak, mahogany, ?(tannish wood), BOX

view 5: canary, bubinga veneer, buginga, birch, BOX

view 6: dark cocobolo, redheart, aromatic red cedar, pine, BOX

view 7: jatoba, osage orange, BOX

view 8: oxhorn, cowtree, aromatic red cedar, maple (crotch area)

BOX: from the bottom up: osage orange sided by sapele(?), cocobolo sided by sipo, dark cocobolo sided by sapele, sapele sided by dark cocobolo, dark cocobolo sided by osage orange

flaws/issues: the osage orange in view 1 has a crack that shows as a dark streak (it does not FEEL like a crack). LATER: the lower, short, edge of the mahogany in view 1 has developed a stress separation which is not very visible but which is quite obvious to the touch. Because of it I have reduced the price from $110 to $75 (I HATE these separations even when they do not detract from the beauty of the bowl)

comments: The canary in view 5 is nicely chatoyant --- fairly rare for canary. The cowtree in view 8 is also chatoyant. The cocobolo in view 7 is a beautiful deep red with black grain lines; extremely dark for the species.


---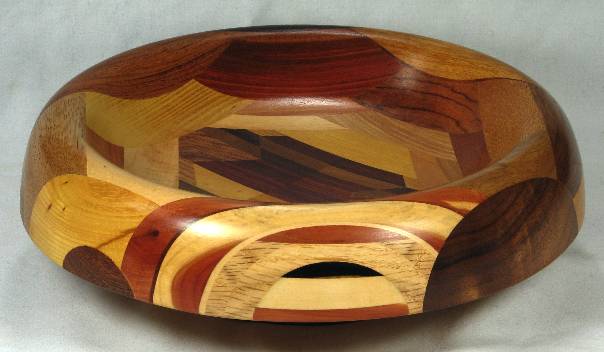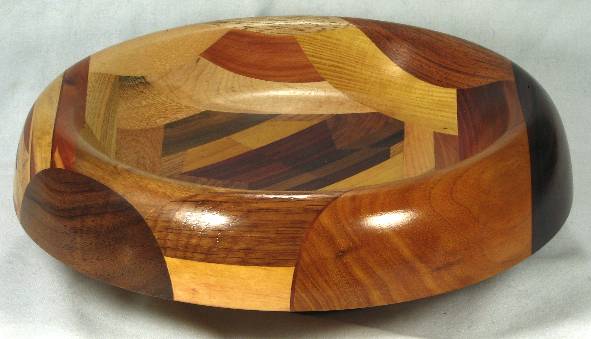 views 2a and 4a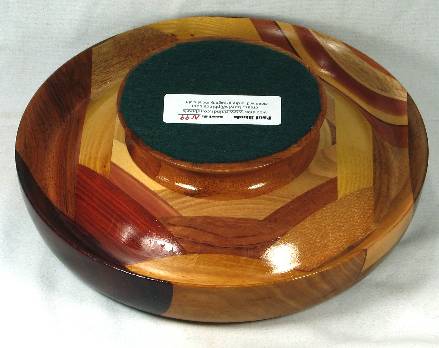 views 5d and 6b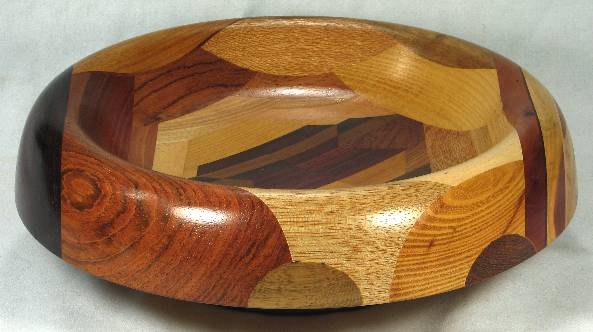 view 8a


---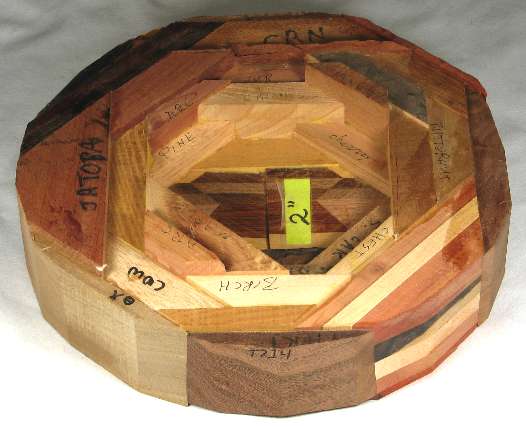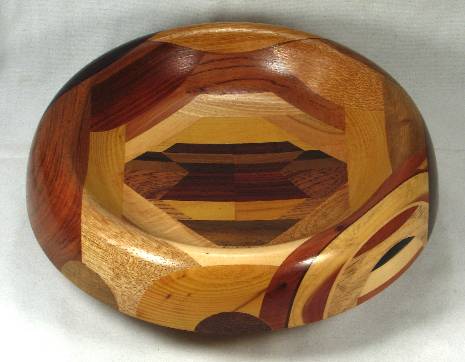 view 1c as the bowl blank and then as the finished bowl