---
go to main page
go to bowl index page

N101 --- $95.00 --- this is the orientation view --- more pics down below

diameter: 9"
height: 2 1/2"

finish: one application of natural stain then 4 coats of high gloss spar polyurethane (with UV blocker)

WOODS USED: [SEE DISCUSSION ON THE MAIN PAGE OF THIS SITE IF ANY OF THIS IS UNCLEAR]

base: Honduran mahogany (sapwood)

view 1: silky oak, purpleheart, curly maple, BOX

view 2: pine, cherry, cocobolo, BOX

view 4: padauk, cumaru, obeche, BOX

view 5: redheart, osage orange, wenge, BOX

view 6: redheart (with sapwood) over sipo, yew, obeche, BOX

view 8: On the left is Africn blackwood, maple veneer, African blackwood, pine, cumaru, a tiny wedge of padauk, aromatic red cedar. On the right is a tiny wedge of partridgewood, prima vera over African blackwood, cowtree, aromatice red cedar. Under both sides is a cherry thin and backing both sides is macawood, beech, BOX

BOX: bottom up: dark cocobolo, redheart, cocobolo, osage orange, olive

flaws/issues: none. LATER: the osage orange in view 5 has darkened to a light golden tan and the padauk in view 4 has lost some of its red tint.

comments: Pine is such as common wood that I am sometimes asked why I use it in my bowls. I think the image of view 2b below gives a good answer.

Very sharp (in several senses of the word) rim on this one, as often happens in this type of bowl ("C6" with the flat angled rim sides).

All very colorful and/or grainy woods in this one.


---


view 2b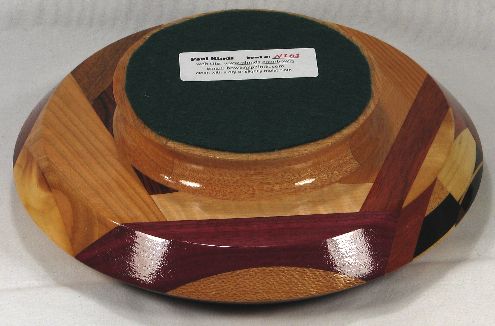 views 5b and 1d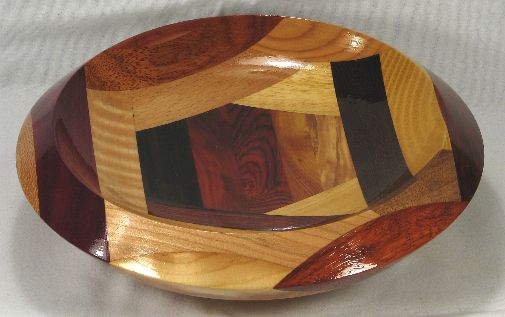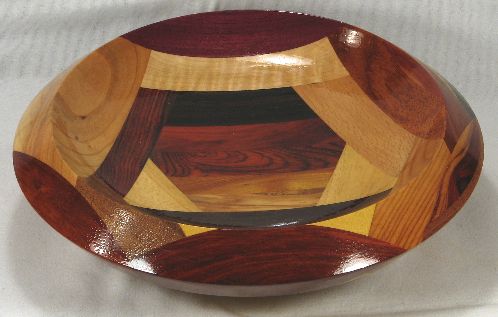 views 3c and 5c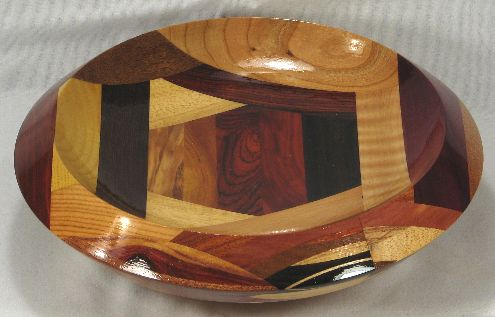 view 7c


---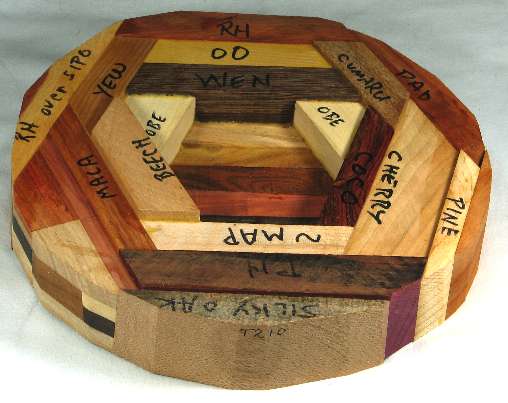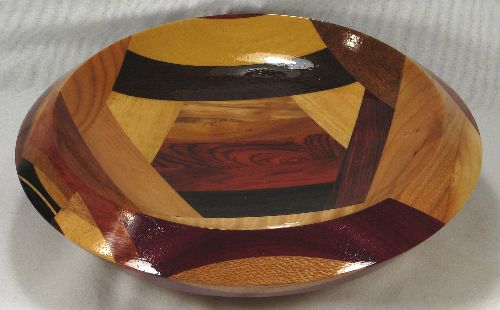 view 1c as the bowl blank and then as the finished bowl